IAN PARRY ON TOUR AGAIN WITH HEADLESS SUPPORTING GEOFF TATE SPRING 2023.
I'm proud to share this post from one of my favourite band's "HEADLESS". I will be joining them on their European support act tour with Geoff Tate. Even though I (as well as Headless) love & respect Göran Edman's fabulous voice and wish him well, it's great to be singing the amazing songs from Headless once again live on stage. It's also extra special for me to be performing & touring with my old Elegy/Headless colleague & friend Martin Helmantel. "Let There Be Rock" See you all soon on tour Ian (Goto Live on stage/ Live Events for details of all venues).
Headless & Ian will be performing songs from their latest studio effort SQUARE ONE available on Salem Rose Music & M-Theory Audio.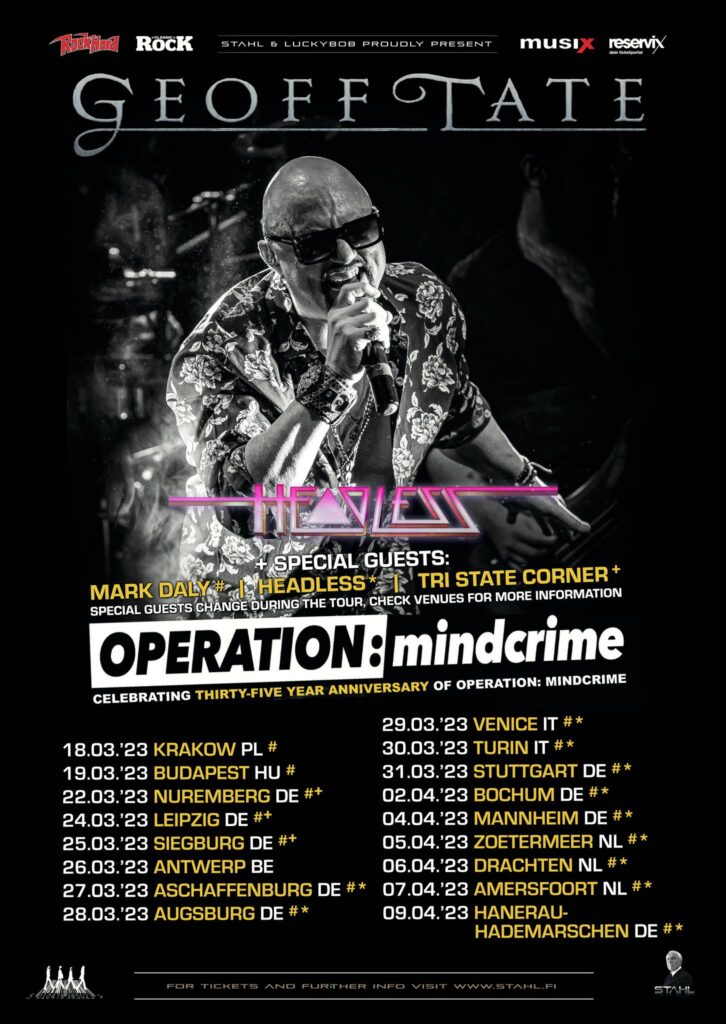 NEW VIDEO INNOCENT MINDS – IAN PARRY 2022 REMASTERS.
Innocent Minds was originally recorded and released in 2006. To celebrate the digital release of "Ian Parry – Visions 2022 Remaster" I made this video with the support of Italian guitarist Luca Sellitto for this powerful melodic prog-metal song. The lyrical theme is to illustrate the importance of protecting the innocence of Children around the world.
A combination of gothic rock, melodic metal to symphonic progressive rock and with the incredible support of Italian guitarist Luca Sellitto here's the video. Goto News & Videos for more details.
NEW AYREON REMIX & REMASTER FEATURING IAN'S VOCALS ON 4 SONGS.
AYREON – Universal Migrator Part I & II 2022 Remixed-Remastered
It is with great pleasure to announce the re-release of Ayreon Universal Migrator 2022 remix & remastered. This 3 CD set includes some amazing vocals from Bruce Dickinson (Iron Maiden), Floor Jansen (Nightwish), Neal Morse (Spock's Beard / Transatlantic), Andi Deris (Helloween), Michael Romeo (Symphony X), yours truly Ian Parry (Elegy / Rock Emporium / Consortium Project) plus many more top-class singers & musicians. Go to news for more details.
You can hear "Sleeper Awake" via the spotify link below & more coming soon. Spotify – The New Migrator
Release Date: 18/11/2022
"Visions 2022 REMASTER" now available on all digital platforms.
Ian Parry Visions 2022 Remaster is Ian's 4th solo album featuring members of Within Temptation; Queensryche; Kamelot; Elegy; Vanden Plas, Kingfisher Sky & many more. "Visions" is a combination of gothic rock, melodic metal & symphonic progressive rock.. With 11 tracks plus a bonus track "Visions 2022" has been specially remastered for this debut digital release from 28-10-2022 on spotify & more via https://ianparry.hearnow.com/
Here is the first official video from the Rock Emporium 2 Brute Force album and a track called 'Til The Day I Die, co-written by Luca Sellitto & Ian Parry.
The video was filmed in Italy, Denmark & Netherlands during the covid lockdown. It portrays a story about a lost love from the past.
Ian Parry – Vocals- Luca Sellitto – Guitars & Keyboards
Allan Sorensen – Drums- Female actor – Francesca Gaia Avossa
Bass guitar on original album track performed by Jan Bijlsma. Goto Videos & News for more details:
——————————————————————————————————————-
Home Again: "I could tell you a lot of funny things that have happened within the last 30 Years in studios or on stage, but the best way to understand what I'm doing is to listen too my music."
Welcome friends to my website!
In the course of my plus 30 years working as a vocalist, songwriter and music-producer, I've seen and heard a lot, which would be worth mentioning, but I'd like to limit the information to the essentials. If you are interested in more, then feel free to contact me!
Back in 1993 I founded my own label called Non-Stop Music Productions (NSMP).
The idea behind NSMP was to produce my own music independently from record companies and later license my productions to labels worldwide. I also intend to help produce and record other independent artists.
This is what I've done since then and this is what I'm still doing to this day!