LATEST NEWS & RELEASES
---
It is with great pleasure to announce 5 confirmed live dates for the "Act of Crime" Tour commencing from October 2020.
The shows will include an all star line-up & a "Blast from the Past" selection of songs from my solo albums "In Flagrante Delicto & Visions" plus the best of Rock Emporium; Consortium Project; Elegy & a few special classic rock/metal tributes.
(N.B. Any changes due to the unsettling circumstances we are experiencing, will be announced).
Further details coming soon. Take care & stay safe Ian.
---
(English translation)
The Englishman singer Ian Parry has been active in the metal world for more than thirty years & naturally with a well-earned reputation. In addition to his vocal contributions in bands such as; Hammerhead; Elegy; Vengeance & his own Consortium Project, he has also made virtually countless guest contributions on numerous albums & projects. In addition to his guest performances Ian has also been active as a solo artist & now delivers his new 5th solo album "In Flagrante Delicto".
As usual Ian Parry brings us this no-nonsense classic hard rock album with a touch of progressive influences, but always keeps an eye on the melodic aspect in the music. In this style he swims vocally like a fish in water, which is clear in this new record. Even the test of time has not in any way effected the voice of this old school rocker. In fact Ian delivers a powerful performance alongside instrumentalists; Stephan Lill & Andreas Lill (Vanden Plas); Patrick Rondat (Elegy/Consortium Project/Jean Michel Jarre); Timo Somers (Delain); Barend Courbois (Blind Guardian/Rock Emporium) & Casey Grillo (Kamelot/Queensryche/Consortium Project) are a noticeable driving force on "In Flagrante Delicto". Naturally the list of musicians can be called impressive to say the least, but the success of a record still stands or falls due to the quality of the song material. I am proud to say that Ian has delivered the goods on this records admirably. The best examples of how strong the songs are can be heard in the title track "In Flagrante Delicto"; "Fools Paradise" & "So Far So Good". The real strength of this record is that there are no weak songs. This is not a uniquely innovative album, but personally I am not looking for that at all. In conclusion we can say Ian Parry's 5th solo album "In Flagrante Delicto" is a well made album that will reach the hearts of all classic hard rock followers.
Written by journalist Sjak Roks.
---
It's with great pleasure to announce the release of my 5th solo album "In Flagrante Delicto". Out now on Metal Mind records worldwide. Celebrating my 30th studio album with a special Digi-pack CD featuring incredible performances & sincere thx to: Stephan Lill, Patrick Rondat, Casey Grillo, Barend Courbois, Jeroen van der Wiel, Timo Somers & more. To order goto:https://shop.metalmind.com.pl/7334,produkt,pl.html
Another great review from Brave Words Canada. 8 out of 10. Special thanks to Journalist Carl Begai.
http://bravewords.com/reviews/ian-parry-in-flagrante-delicto


In Flagrante Delicto is now available on all Digital streaming platforms. To Goto spotify:https://open.spotify.com/album/3SoecAVdvjW2WCY5lzAMaw?si=W7rfs5AXRVOwX_6sxjCDLw
Ian Parry – "In Flagrante Delicto" (official video)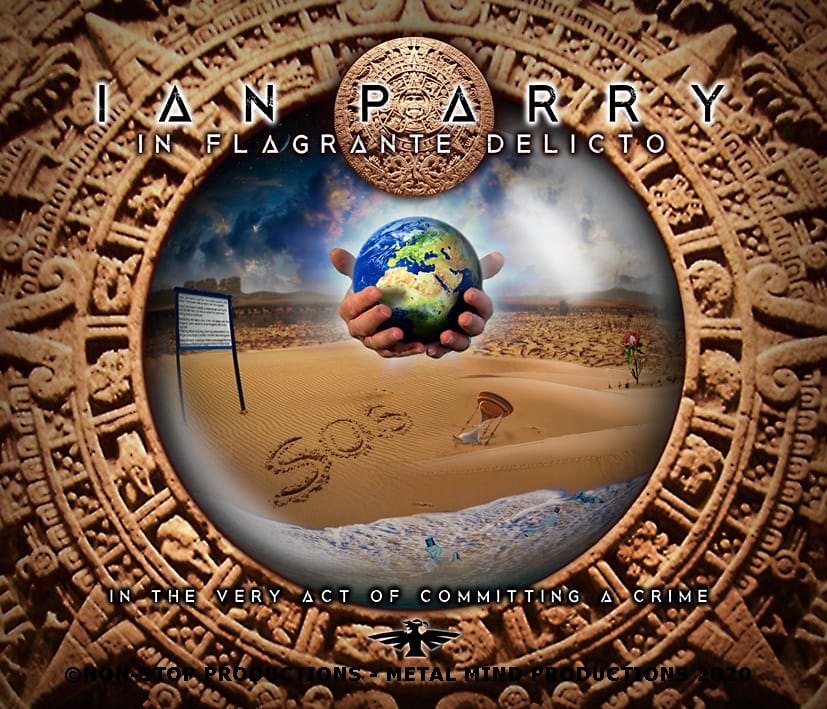 "Happy New Year Everyone". 2020 Ian celebrates his career with the 21-2-2020 release of his 30th studio album "In Flagrante Delicto" (meaning in the very act of committing a crime). In Ian's humble opinion, "the crime being plastic waste, with an added touch of fantasy as well as fiction". 10 hypnotic modern power rock synthesizer/guitar/vocal based songs, this 5th solo album covers a diverse musical style ranging from Yes style synthesizer atmospheres, to Whitesnake/ Foreigner classic rock. There's even a hint of Rammstein together with a commercial heart felt Bad English/Peter Gabriel style ballad elogently performed by former Jean Michel Jarre guitarist Patrick Rondat. "In Flagrante Delicto" has a powerful lyrical anecdote with melodic power rock chords enhanced by modern synthesizer based tracks. With controversial issues very much in the mainstream media at present about plastic and toxic waste, which Ian addressed in part issues of global pollution back in 2006 in "Visions" his 4th solo album. "Visions of a better future at least". Astonishingly after more than a decade the challenges humanity faces to this day seem to be becoming progressively bigger. After spending more than a decade (co-) writing and compiling songs to best illustrate these serious issues, Ian sings out a passionate message from the heart and retains the creative edge for a little fantasy for his fans. The message a simple wish to make more people aware of what's happening in the best way musicians and singers know via their music. Ian once again delivers a great album with the talent and support of his family of incredible musicians; guitarists – Stephan Lill (Vanden plas) & co-writer; Patrick Rondat (Jean Michel Jarre/Elegy/Consortium Project; Timo Somers (Delain/Vengeance ; Keyboard player & Co-songwriter – Jeroen van der Wiel (Rock Emporium/Odyssice; drummers – Casey Grillo (Kamelot/Queensrÿke), Imre Daun (Brian Robertson band/Rock Emporium), Andreas Lill (Vanden Plas); bass guitarists – Barend Courbois (Blind Guardian), Torsten Reichert (Vanden Plas/Ian Parry – Visions) Guido Stocker, plus many more guest musicians performing a selection of 10 masterful tracks.
(see detailed list below).
As an established singer in the world of Rock & Metal with worldwide sales exceeding 200,000, Ian Parry's almost 40 year career beginning with his first professional band Mono Pacific in 1981 (also featuring Zak Starkey Son of Beatles drummer Ringo Starr), has given him the opportunity to work with many well-known artists such as; Kamelot; Elegy; Ayreon; Mob Rules; Royal Hunt; Vengeance; Hammerhead; Valencia; Infinity Overture; Crystal Tears; Von Baltzer & his self-produced 5 album epic rock metal concept Consortium Project.
Now Ian joins forces together with an even more impressive collaboration of world class musicians in a melodic power rock formation performing 10 tracks on his 5th solo album "In Flagrante Delico". (see tracklist below).
Produced by Ian with 30 albums under his belt "In Flagrante Delicto" has been masterfully mixed by Swedish Engineer/Producer Martin Kronlund (Hammerfall/ Firewind/ Rock Emporium).
Now Ian delivers another memorable "back to the roots" melodic power rock solo album, comprising of 10 self & co-written tracks together with Keyboard player Jeroen van der Wiel & Guitarist Stephan Lill. "In Flagrante Delicto" opens a new chapter in Ian's phenomenal career combining passion, true facts & raw power synthesizer / guitar based melodic rock album. In Stores from 21-2-2020.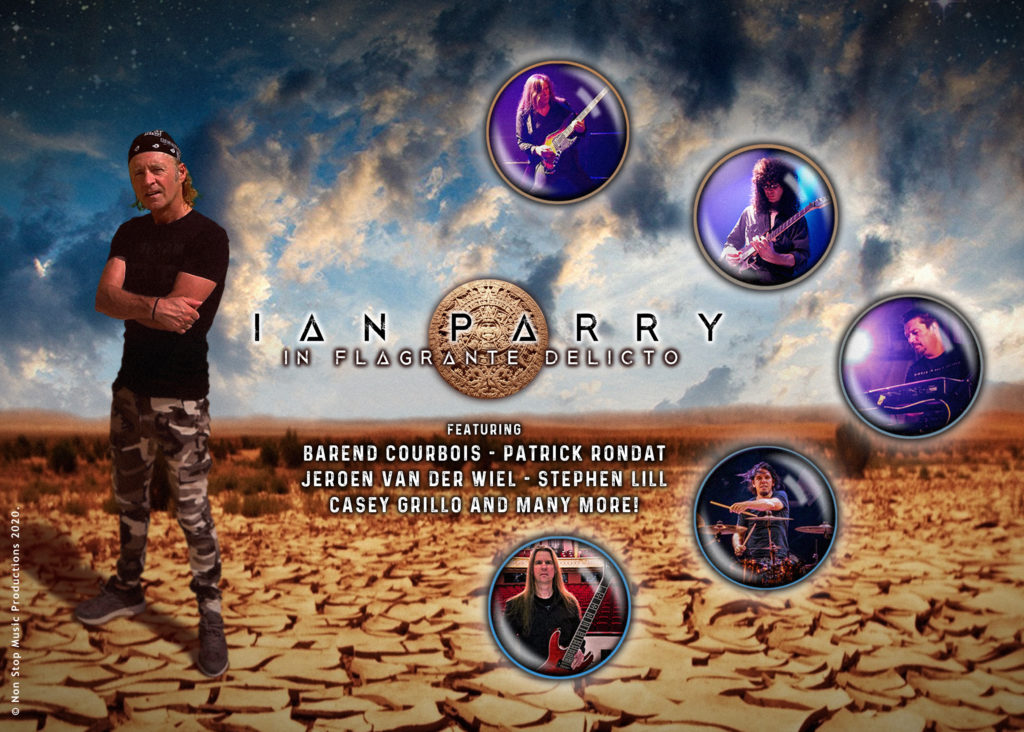 IAN PARRY'S ALL STAR LIVE LINE-UP INCLUDES:
IAN PARRY – Vocals (Rock Emporium/Elegy/Consortium Project/Ayreon/Vengeance/Von Baltzer)
PATRICK RONDAT – Guitar (Jean Michel Jarre/ Consortium Project/ Elegy)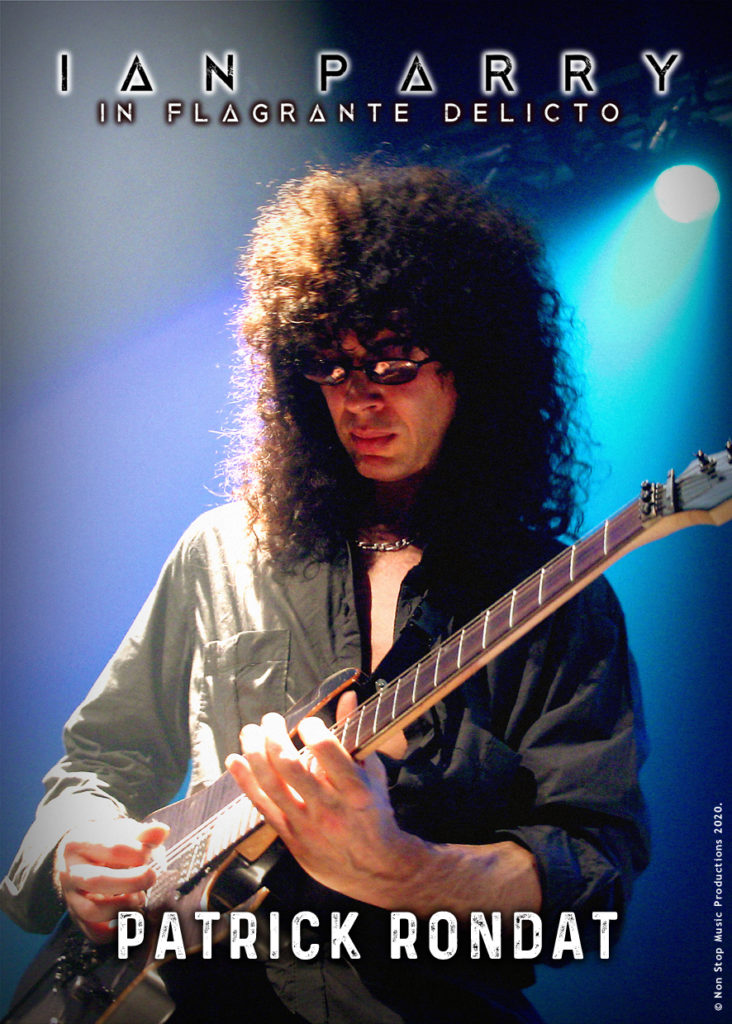 STEPHAN LILL – Guitar (Vanden Plas/ Consortium Project/ Ian Parry-Visions)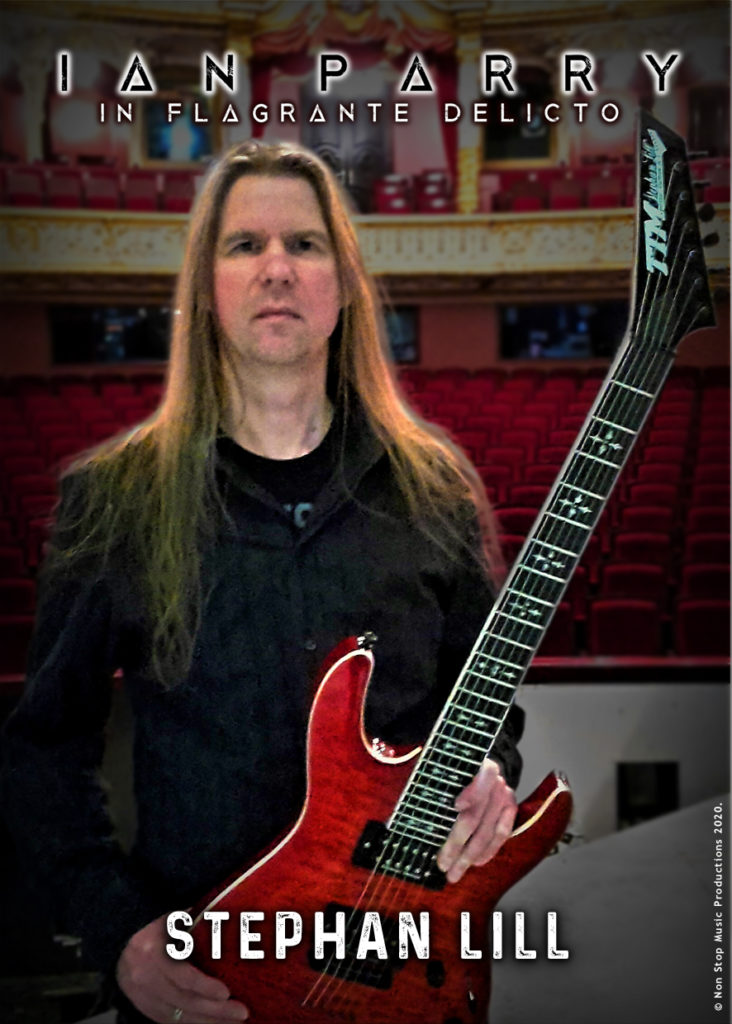 JEROEN VAN DER WIEL – keyboards (Rock Emporium/Thirteen/Odyssice)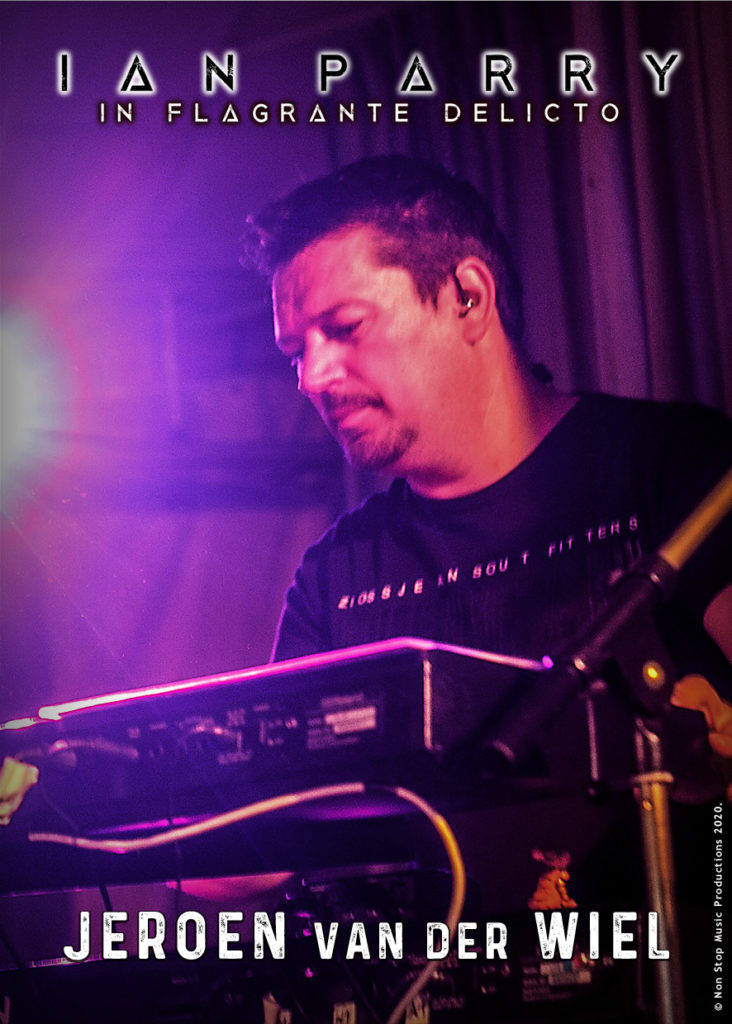 CASEY GRILLO – Drums (Kamelot/Queensrÿke/Consortium Project/Ian Parry-Visions)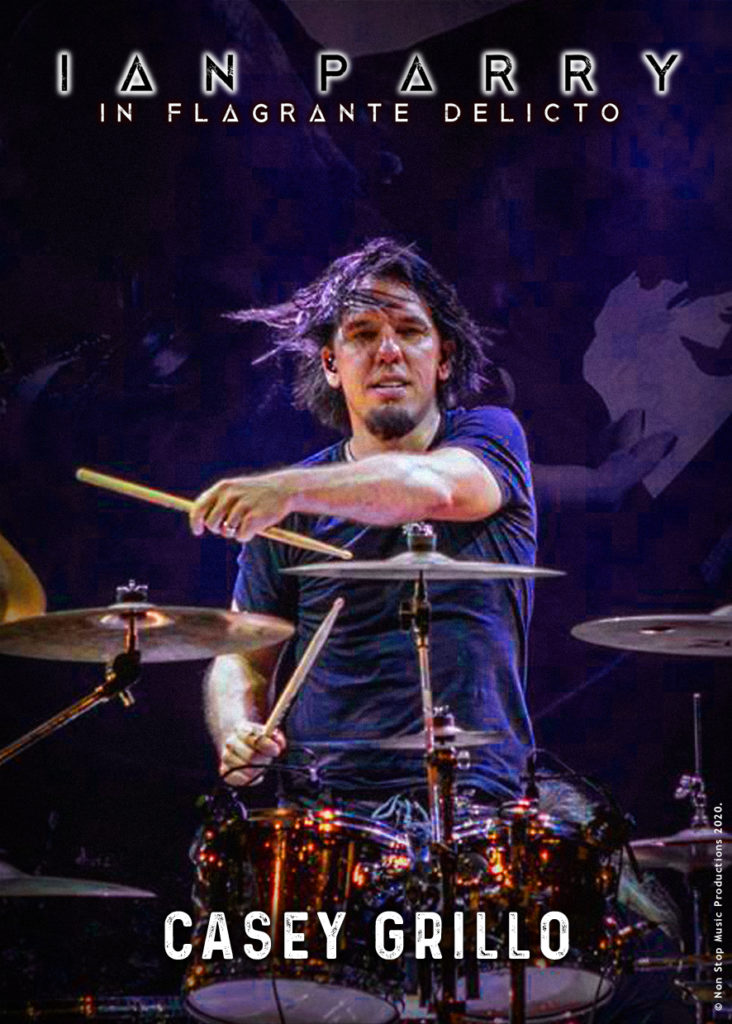 BAREND COURBOIS – Bass (Blind Guardian/Rock Emporium/Vengeance)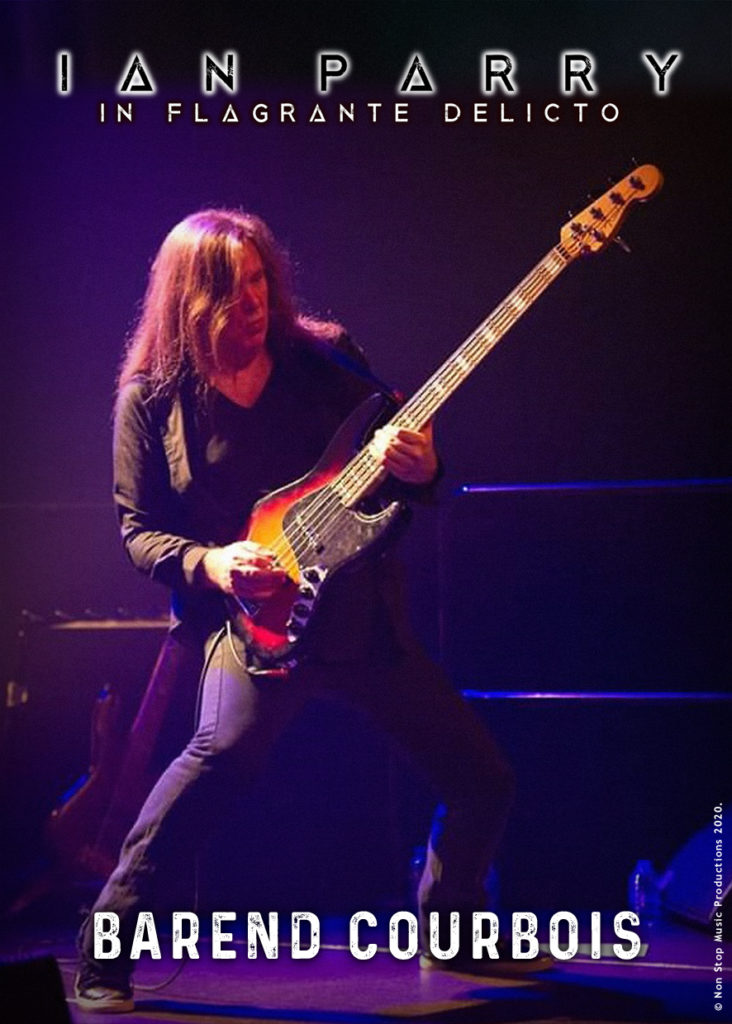 Guest musicians
IMRE DAUN – Drums (Rock Emporium/Gypsy Rose/Brian Robertsons The Clan)
ANDREAS LILL – AdditionalDrums (Vanden Plas/ Ian Parry-Visions)
GARRY KING – Additional Drums (Joe Lynn Turner/Rock Emporium)
TIMO SOMERS – Rhythm & Solo guitars (Delain/Rock Emporium/Vengeance)
MARIO ZAPATA – acoustic, rhythm & Solo guitars (Ian Parry – Visions)
ROBERT FINAN – Bass (Ian Parry-Visions)
TORSTEN REICHERT – Bass (Vanden Plas/ Ian Parry-Visions)
GUIDO STÖCKER – additional bass guitar (Bodyguerra)
MARCEL VD ZWAM – additional bass guitar (Consortium Project)
JOYCE MEUWISSEN – Female backing vocals (Ian Parry – Visions)
JOSHUA DUTRIEUX – Keyboards (Consortium Project/Elegy)
ALEXANDRO FREITAS – Co-writer, Keyboards & Portugese spoken voice (Ian Parry – Visions)
IAN PARRY "IN FLAGRANTE DELICTO" album tracks:
1. SPACEMAN
2. TRAVELLERS (ACROSS THE UNKNOWN UNIVERSE)
3. IN FLAGRANTE DELICTO
4. FOOL'S PARADISE
5. IMPULSE
6. INGENIOUS (ballad)
7. WISH
8. FLY
9. THE DAY WE STOP DREAMING (ballad)
10. SO FAR SO GOOD
Here's a link to hear the radio sampler & a taste of what's to come: https://www.youtube.com/watch?v=LFUmZ8d5WGA&feature=youtu.be
Or visit the homepage from Metal Mind Productions: https://www.metalmind.com.pl/en/ian-parry—new-album-to-be-released-in-february-2020.html
The songs from "In Flagrante Delicto" are sealed together by an array of modernized melodic rock Synthesizer tracks increasing popular in the worlds 80's & 90's classic rock music scene.
The album will be released worldwide on 21st of February 2020 by Metal Mind Productions (previously released Elegy, plus Tank, Dougie White (ex-Rainbow) & many more great artists).
Ian will continue celebrating his 30th studio album release in 2020 with a fantastic "Blast from the Past" live tour, featuring a selection of songs from his distinguished career as well as a number of special tribute covers for his loyal fans. This 1 hour and 45 minute live show will include tracks from the many album releases going back more than 20 years, performed by an "All-Star" line-up from the best Rock Metal musicians whom also recorded & performed with Ian in worldwide renowned bands such as; Rock Emporium, Vengeance, Elegy, Consortium Project, Ayreon & also appear on the New 5th solo "In Flagrante Delicto". Now these phenomenal musicians; Barend Coubois (Blind Guardian), Bob Wijtsma (Ayreon), Sander Zoer (Delain) & Jeroen Van Der Wiel (Rock Emporium) join forces together with Ian to perform a fantastic kick ass live show under the banner "Act Of Crime" tour 2020.
Incidently Ian's band of brothers live tour musicians also appear in the first video clip from the title track "In Flagrante Delicto" soon to be shown on Ian's YouTube site! (more news coming soon).
Non-Stop Productions are working together with the Dutch Promoter JBM EVENTS (see contact information for bookings: www.jbmevents.com or e-mail: info@jbmevents.nl) who are now booking a number of selected live shows in Holland, Belgium, Germany & Switzerland commencing September 2020. Plans are in the making for further live shows across Europe.