News Flash & Album releases
IAN IS PROUD TO ANNOUNCE THE OFFICIAL REUNION OF ELEGY.
It is with great pleasure that I announce after 25 years the official reunion of Elegy.
ELEGY REUNION 2023

ELEGY REUNION 2023
After almost 25 years Elegy celebrate the release on special picture disc vinyls of their entire 8 album collection with "THE REUNION" tour starting in 2023. Looking back upon their long spanning career 'Elegy' who have sold more than 250,000 albums in more than 60 countries worldwide. The origins of the band name Elegy as dictionary's explanation is rock solid. A poem written in elegiac meter; a lament or song of sorrow. However the bands entire musical history was nothing more than a unique success story in the annals of Prog rock metal.
Quote "Elegy is one of the most talented bands I worked with. Extremely creative and virtuosic. We worked together for many years and it was always a pleasure sharing ideas with this dedicated band. I am really happy to hear that Elegy has re-united and I wish them all the best from the depth of my heart".
Antje Lange – former "boss" of Elegy as head of Noise and Sanctuary records
Now Elegy reunited with their ultimate line-up;
Ian Parry – Vocals
Henk van der Laars – Guitar
Gilbert Pot – Guitar / keyboards
Martin Helmantel – Bass
Dirk Bruinenberg – Drums.
The band will perform songs from their first 3 albums Labyrinth of Dreams, Supremacy & Lost, including their worldwide successful "State of Mind" 1997 album followed by "Manifstation of Fear" 1998, produced by Helloween "Keeper of the seven keys" producer Tommy Newton.
A taunting spell seemed to be following the progressive metal band around since the earliest days of their existence. Dozens of line up changes slowly pointed the band their own direction and sound in music build around the signature twinguitar sound of Henk van der Laars and Arno van Brussel. The addition of long time friend Martin Helmantel on bass and the talented Ed Warbie on drums paved the way for a new and more technical approach in songwriting. With the addition of the high pitched and dramatic voice of Eduard Hovinga, the band found their trademark sound which soon was noticed by many around the globe. Winning a band contest in front of a sold out German Zeche should have launched their careers if it wasn't for Polydor Records retracting their world wide record deal at the last notice. Elegy grew stronger and stronger as did their craftsmanship in songwriting.
In 1991 Elegy signs their first recording contract & record their elusive "Labyrinth of Dreams" debut in 1992. An album packed with top notch progressive metal tunes, thunderous drums and bass, breathtaking twin guitar solos and the dramatic and crystal clear vocals of Hovinga. Elegy takes Japan by storm proven by an exclusive sold out show in Osaka and an extensive promo tour, where Europe seems ignorant to their unique sound where Elegy becomes prog-metals best kept secret. In 1993 Ed Warbie introduces his follow up Dirk Bruinenberg personally whilst he joins Dutch Gorefest. Gilbert Pot fills the slot of second guitar player left by van Brussel to record "Supremacy", which in all ways shows the drive to thrive from the Dutch prog metallers on an action packed release. Japan glorifies the quintet finding themselves on the verge of a breakthrough. "Lost" is the band's third studio effort which shows a band still growing musically. When in 1995 Hovinga leaves the band to pursue a solo career, none other than Ian Parry (Vengeance, Consortium, Ayreon, Hammerhead) takes the microphone on the mini CD "Primal Instinct". "State of Mind" showcases an expanded field of operation thanks to Parry's wide range and tops it's predecessors on all accounts, with Japanese BURRN!! Magazine voting Parry in the top vocalists for 1997! The new promotion trip and tour into the Far East with van der Laars being untraceable for days and showing up at last notice prior to leaving for the airport, again is a success story. Europe finally catches on and the band is booked on an extensive tour with Stratovarius. "Manifestation of Fear" easily matches "State of Mind" boosting the band's ambition. Again Ian Parry and Henk van der Laars are flown over to Japan to do a week of acoustic performances before heading back to Europe to tour with Kamelot. The upward curve is slightly adjusted when "Forbidden Fruit" shows another line up change with long time serving Henk van der Laars departing to favour family duties. With Henk, the band loses a unique songwriter as well as a guitar player with a truly unique sound, a gap hard to fill. Elegy, and Martin in particular will not rest until a proper replacement is introduced. Newly injected élan is brought in by one of the most skilful players in modern music; Patrick Rondat (Jean Michael Jarre, G3). Helmantel and Parry are the frontrunners of the band guarding the heritance and sound with Rondat adding more fuel to the creative fire with his extravagant semi classical guitar playing which eventually leads to the recording of the band's masterpiece "Principles of Pain". Much to the fans' surprise "Missing Persons" features former vocalist Eduard Hovinga in duet with Parry. An action packed metal album bursting with musical craftsmanship and extraordinary songwriting, and perhaps one of metal's most underrated CD's of the last decade. The success of this album even brings them to the US for the first time, playing the first edition of the infamous Brave Words and Bloody Knuckles festival in Cleveland! Over the years Elegy managed to grow and refresh, crystallizing their direction, getting more complex without losing sight. Even though the music is packed with breathtaking breaks and high speed guitar outbursts, the song always came first. Recognisable and well arranged.
Elegy paved ways for many progressive metal bands to come…Edwin van hoof!
Additional comments from former record company manager and Canadian journalist!
Prior to the release of State Of Mind in 1997 Elegy was an unknown entity to me. I was sufficiently intrigued by their sound upon receiving the CD, however – which I likened to a prog-rock bastard child of Deep Purple at the time – to take up Noise Records promo goddess Sandra Rudolph's offer to interview Ian Parry and Henk van der Laars during the press junket for the album. Ground zero was Nürnberg, Germany, and we clicked even before the first beer had been poured, turning a what could have been a typical Q&A session into an off-the-wall party that ultimately set the stage for similar meetings in the years that followed. The music came first, of course, but the personalities behind Elegy's music also made the kilometers travelled to see them play and the hangovers that often followed worth it. Looking back, I realize there isn't nearly enough space to list my favourite moments as a footnote in Elegy's history. The hot and sweaty crowd-pleasing show at the Ludwigsburg Rockfabrik followed by a huge aftershow piss-up; discovering that radio personality Hein Hart's BMW could go from 200 to 0 in .4 nanoseconds when I had to empty my stomach on the way home from said party; Dirk air-drumming sidestage to Stratovarius' set in Augsburg beat for beat and fill for fill; Henk's beer can pyramid in Offenbach…the list goes on and on. Elegy were the underdogs and they most certainly deserved more attention than they received, but they became and remain one of "my" bands, and much more than a mere collection of CDs on a shelf.
Carl Begai BW&BK May 21st, 2007
FOR BOOKINGS CONTACT :
Eternal Rock Agency
Velijndonk 22 | 6218 GK Maastricht | Netherlands
Email: Ludy@eternalrock-musicagency.com
Homepage: http://www.eternalrock-musicagency.com
IAN PARRY INTERVIEW IN JAPAN ABOUT THE ELEGY REUNION 2023.
I recently did this interview for Marunouchi Magazine in Japan explaining about the Elegy Reunion in 2023 and the band's plans to play live shows later this year. Click on the http://sin23ou.heavy.jp/?p=19318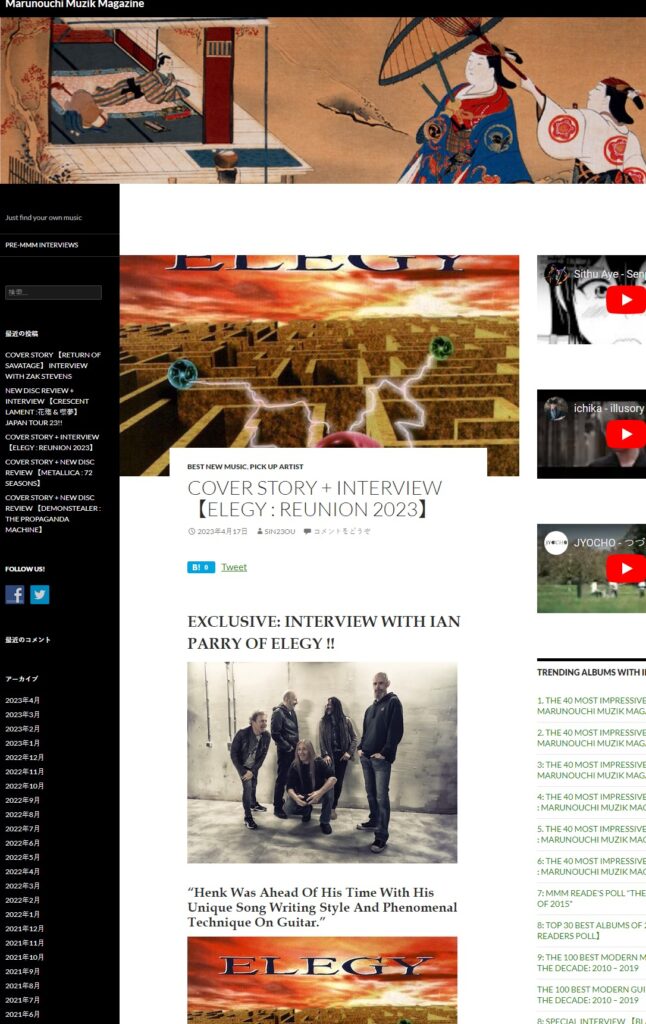 Innocent Minds was originally recorded and released in 2006. To celebrate the digital release of "Ian Parry – Visions 2022 Remaster" I made this video with the support of Italian guitarist Luca Sellitto for this powerful melodic prog-metal song. The lyrical theme is to illustrate the importance of protecting the innocence of Children around the world.
Video performed Ian Parry – Vocals & Luca Sellitto – Guitar
Filmed on location in Italy by Teresa Curcio – Video Editing by Ian Parry
A combination of gothic rock, melodic metal to symphonic progressive rock and with the incredible support of Italian guitarist Luca Sellitto here's the video. I hope you like it. Now I wish that some of your dreams come true in 2023. Take care
(15) IAN PARRY – INNOCENT MINDS – VISIONS 2022 REMASTER OFFICIAL VIDEO – YouTube
INNOCENT MINDS – IAN PARRY OFFICIAL VIDEO
NEW AYREON REMIX & REMASTER FEATURING IAN'S VOCALS ON 4 SONGS.
AYREON – Universal Migrator Part I & II 2022 Remixed-Remastered
It is with great pleasure to announce the re-release of Ayreon Universal Migrator 2022 remix & remastered. This 3 CD set includes some amazing vocals from Bruce Dickinson (Iron Maiden), Floor Jansen (Nightwish), Neal Morse (Spock's Beard / Transatlantic), Andi Deris (Helloween), Michael Romeo (Symphony X), yours truly Ian Parry (Elegy / Rock Emporium / Consortium Project) plus many more top-class singers & musicians.
If memory serves me well, I recorded vocals during an afternoon session back in late 1999, on our co-written song "Sleeper Awake" (CD 2. "The New Migrator" part b), with my old Vengeance colleague Arjen Lucassen (some 23 yrs ago). I forgot about the 3 extra unreleased vocal tracks I did, so it's fantastic these incredible remixes are included on a bonus CD. I'm sure you'll agree that Arjen has done an excellent job with the remix plus remastering & once again it's great to be part of Ayreon's historic musical adventure. I'm sure you'll wanna add this fantastic Ayreon 3 CD box set to your cd collection & playlists.
You can hear "Sleeper Awake" via the spotify link below & more coming soon. Spotify – The New Migrator
Release Date: 18/11/2022
Track Listing: CD 1 – The Dream Sequencer: 1. The Dream Sequencer / 2. My House On Mars / 3. 2084 / 4. One Small Step / 5. The Shooting Company Of Captain Frans B. Cocq / 6. Dragon On The Sea / 7. Temple Of The Cat / 8. Carried By The Wind / 9. And The Druids Turn To Stone / 10. The First Man On Earth / 11. The Dream Sequencer Reprise
CD 2 – Flight Of The Migrator: 1. Chaos / 2. Dawn Of A Million Souls / 3. Journey On The Waves Of Time / 4. To The Quasar / 5. Into The Black Hole / 6. Through The Wormhole / 7. Out Of The White Hole / 8. To The Solar System / 9. The New Migrator b) Sleeper Awake
CD 3 – Bonus & Unreleased: 1. Into The Black Hole – Damian Wilson (previously unreleased) / 2. Journey On The Waves Of Time – Ian Parry (previously unreleased) / 3. Out Of The White Hole – Robert Soeterboek (remix) / 4. Dawn Of A Million Souls – Ian Parry (previously unreleased) / 5. Temple Of The Cat – Lana Lane (remix) / 6. Through The Wormhole – Ian Parry (remix) / 7. Into The Black Hole – Lana Lane (previously unreleased) / 8. Carpe Diem (Chaos) – 1992 Home Demo (previously released on Ayreonauts Only) / 9. House On Mars – Instrumental Primal Version (previously unreleased) / 10. Untitled Instrumental (previously unreleased)
"Visions 2022 REMASTER" now available on all digital platforms.
Ian Parry Visions 2022 Remaster is Ian's 4th solo album featuring members of Within Temptation; Queensryche; Kamelot; Elegy; Vanden Plas, Kingfisher Sky & many more. "Visions" is a combination of gothic rock, melodic metal & symphonic progressive rock.. With 11 tracks plus a bonus track "Visions 2022" has been specially remastered for this debut digital release from 28-10-2022 https://ianparry.hearnow.com/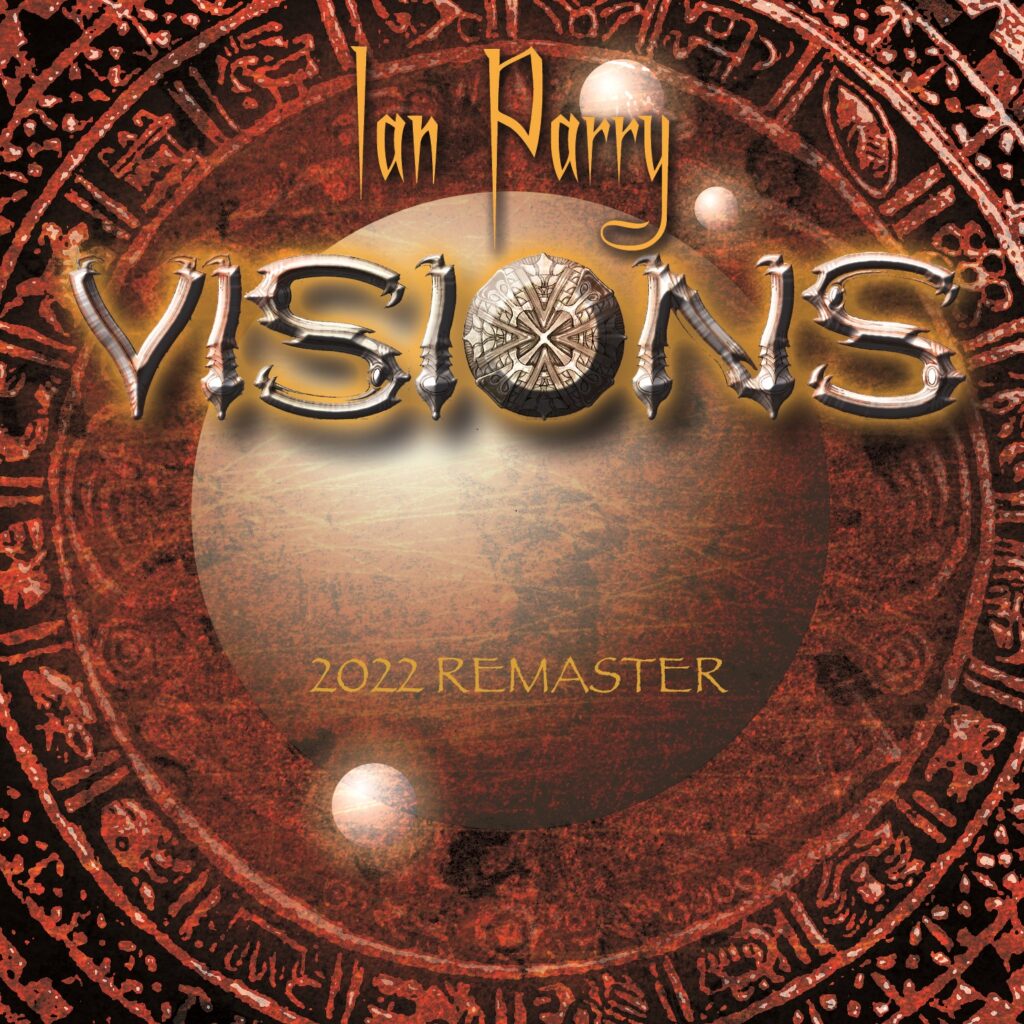 Go to Videos for more info
Ian Parry's Rock Emporium 2 Brute Force official video – IN ISOLATION – YouTube
In Isolation a song about hidden secrets from the past, is the 2nd video taken from Ian Parry's Rock Emporium 2 "Brute Force" album . This powerful melodic classic metal track was written by Bob Wijtsma (music) & Ian Parry (lyrics & vocal melody). For more details go to Videos in the menu on the left.
JUNE 2021 WORLDWIDE RELEASE ROCK EMPORIUM BRUTE FORCE VIA METAL MIND PRODUCTIONS.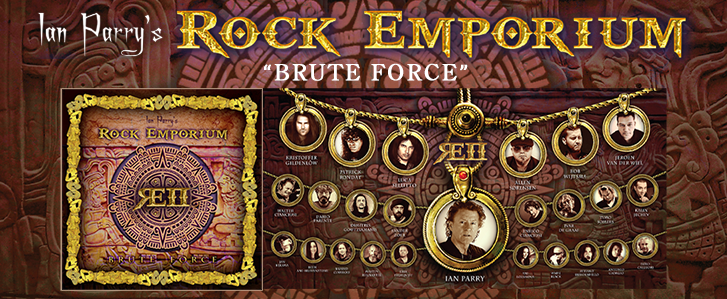 Friday June 4th 2021 sees the worldwide release of Rock Emporium "Brute Force"via Metal Mind Productions & partners PHD (UK) & MVD (USA). A very proud day in deed. Already had the first 2 interviews in Metal Hammer Poland & Rock Hard Czech Republic.
Special Thanks to my 25 colleagues for helping me make this album a masterpiece. (see performance details underneath).
Track listing for Rock Emporium 2 "Brut Force".
In Isolation
Darkest Secrets
'Til The Day I Die
My Confession
Brute Force
Fairytale
Lethal Injection
Rings Of Fire
Dreamworld
Where Do We Go From Here
One Vision – Bonus Tribute To Queen & Freddie Mercury
Rock Emporium 2 "Brute Force" is performed by:
IAN PARRY – Lead, harmony & choir vocals all songs. Midi Lead synth strings & organ on; 5 & 7.
KRIS GILDENLÖW – Bass guitars on tracks; 1,2,5 & 7.
PATRICK RONDAT – Rhythm & solo guitars on track; 5.
LUCA SELLITTO – Rhythm, acoustic, solo guitars & strings on tracks; 2,3,6,7 &10. Backing vocal choirs on track; 3.
ALLAN SØRENSEN – Drums on tracks; 2,3,4,5,7 & 8.
BOB WIJTSMA – Rhythm, solo guitars & backing vocals on tracks; 1 & solo part on track 11.
JEROEN VAN DER WIEL – Piano, Strings, Cello, Sequencer & Organ on tracks; 1 & 11.
GUEST MUSICIANS;
Bass guitars –
Jan Bijlsma (The Element/Vengeance) performs on track 8.
Barend Courbois (Blind Guardian/Consortium Project 1) performs on track 8.
Beth-Ami Heavenstone (Graham Bonnet/ Alcatrazz) performs on track 9.
Martin Helmantel (Elegy/ 7 Miles to Pittsburgh) performs on bonus track 11.
Erik Palmqvist (Von Blatzer) performs on track 8.
Svante Henryson (Malmsteen/ Joey Tempest) performs on track 6.
Drums –
Enrico Cianciusi (Headless) performs on track 9.
Patrick Johansson (Malmsteen/Impelliteri/Vinny Moore) performs on track 6.
Sander Zoer (Delain/Leah) performs on track 1.
Ivar de Graaf (Within Temptation/ Kingfisher Sky) performs on bonus track 11.
Keyboards – Kalin Jechev performs on tracks; 4 & 8.
Guitars –
Fabio Calluori performs on track 11.
Walter Cianciusi (Geoff Tate/Headless) performs on track 9.
Dimitris (Gudz) Goutziamanis performs on track 4 & 11.
Dario Parente (Geoff Tate/Headless) performs on track 9.
Timo Somers (Delain) performs on track 8.
Vocals –
Wade Black (Crimson Glory) Choir, harmony & lead vocal part) on track 11. Stefano Sbrignadello (stamina) Choir, Harmony & Lead vocal part on track 11.
Monday 24th of January, listen to Ian's 2 hour special interview on "Play It Loud" with Marcel van Kuijk at ZFM Radio Zandvoort. During the show you can win 2 signed copies of Rock Emporium 2 "Brute Force" & Ian's 5th solo album "In Flagrante Delicto". All you have to do is tune in and answer a simple question. Special thanks to Marcel & all the crew at ZFM radio for supporting our music.
https://www.facebook.com/Playitloudatzfmzandvoort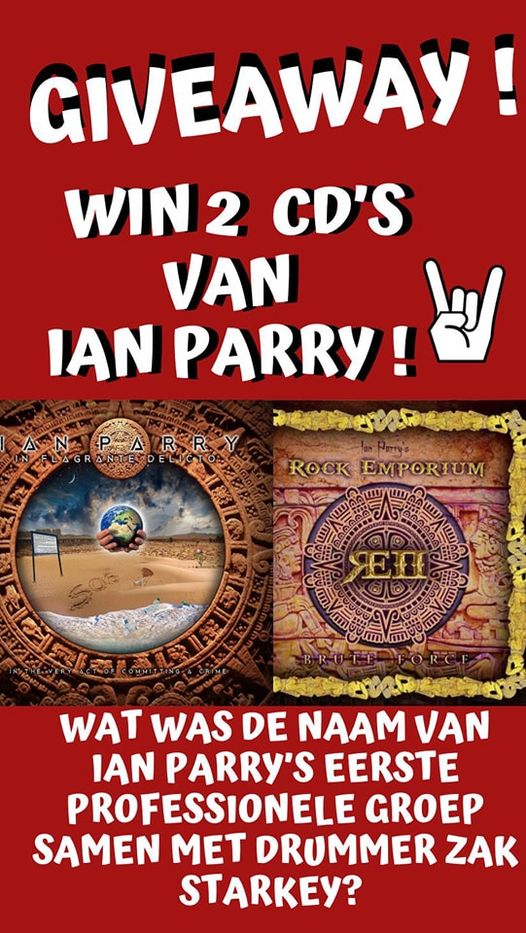 Already had my first 2 fantastic radio interview in the USA & Italy. Special thanks to Tobi & Lori from Powerslaves show on Metal Messiah Radio Florida USA. Also DJ Mike at Metal Maximum Radio Italy.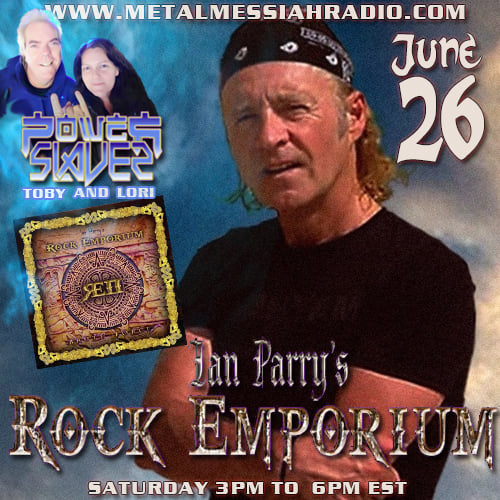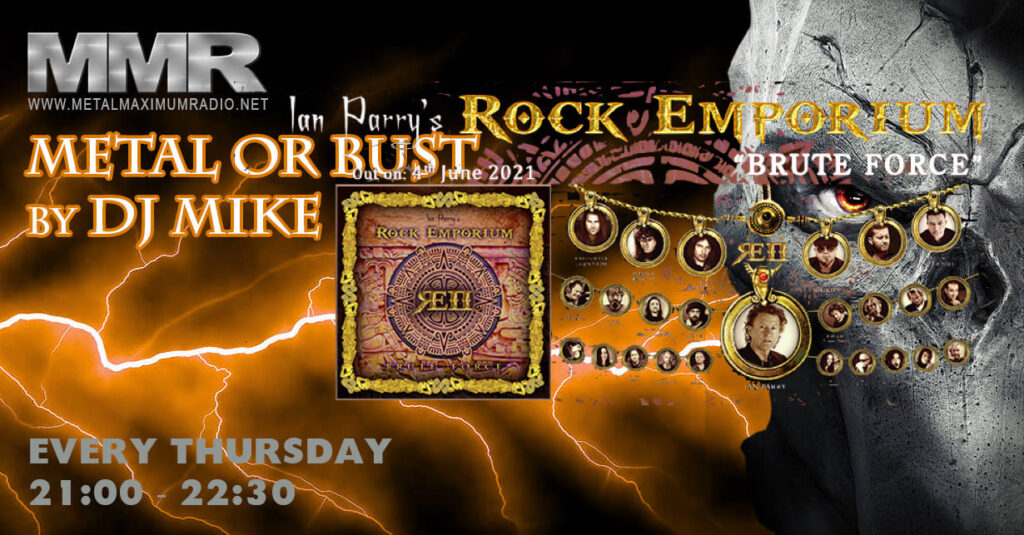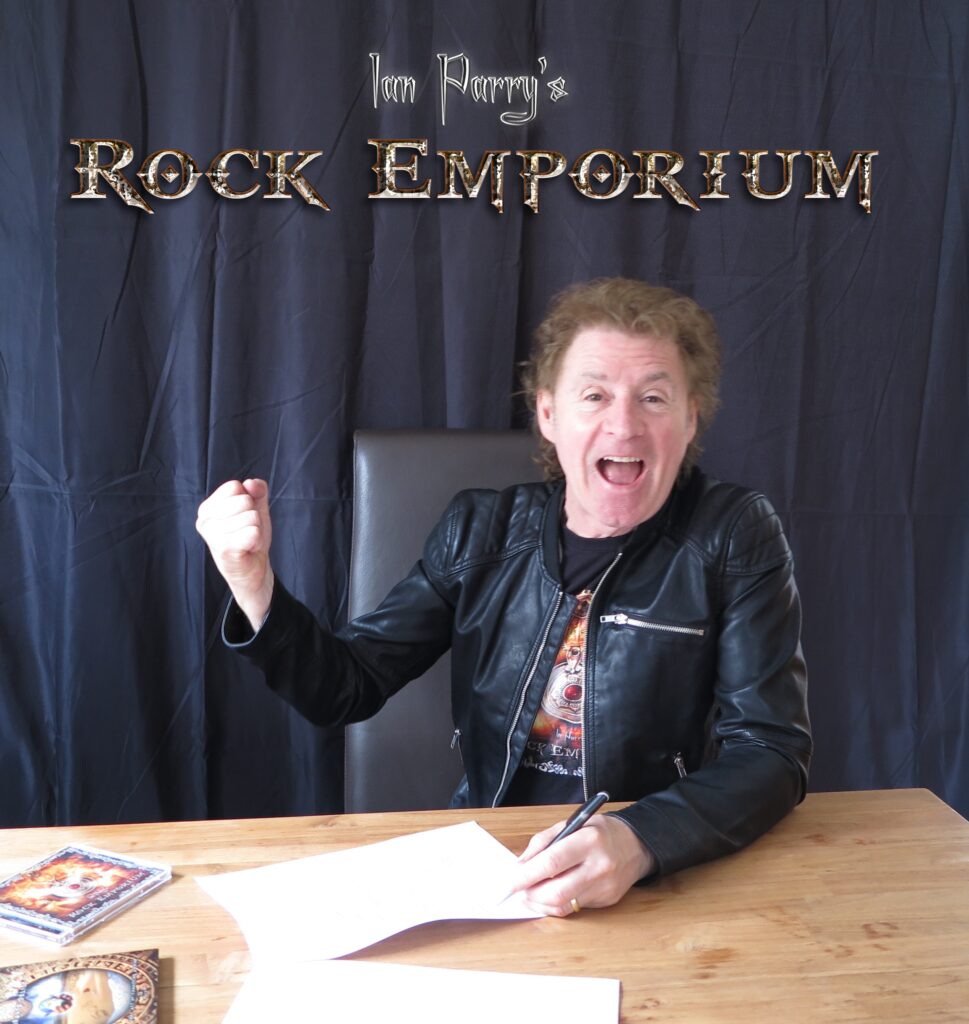 Ian is proud to announce that he has signed a worldwide license deal with Metal Mind Productions and partners PHD in the UK & MVD in the USA for Rock Emporium 2 "Brute Force.
After the successful worldwide release of Ian Parry's 5th solo album "In Flagrante Delicto", Ian now celebrates his 40th year as a professional singer songwriter with the release of his Rock Emporium 2 "Brute Force" album and a world wide release date for June 2021, by Metal Mind Productions & partners Bickee Music Japan & MVD in the USA. This monumental 2nd instalment from Rock Emporium in a melodic power rock / neo- classical metal style, was produced by Ian & mixed by Engineer / Producer/ guitarist Fabio Calluori at Sonic Temple Studios Italy (Heimdall/Stamina/Sellitto). Alongside Ian Parry (Consortium Project/Elegy/Vengeance) are musicians/singers out the world of metal & members of well-known bands such as: Beth-Ami Heavenstone (Graham Bonnet band); Timo Somers (Delain); Martin Helmantel (Elegy); Barend Courbois (Blind Guardian); Allan Sorensen (Royal Hunt/Pretty Maids) ; Patrick Rondat (Jean-Michel Jarre/Consortium Project); Patrick Johansson & Svante Henryson (Malmsteen); Kris Gildenlöw (Pain of Salvation/Dial); Luca Sellitto (Stamina); Walter Cianciusi, Enrico Cianciusi & Dario Parente (Jeff Tate Band/Headless); Ivar De Graaf (Within Temptation/Kingfisher Sky). Bob Wijtsma (Ex Libris/Ayreon); Jeroen van der Wiel (Odyssice); Kalin Jechev (Rock Emporium 1).
Special guest singers; Wade Black (Crimson Glory/ Leatherwolf/ Seven Witches); Stefano Sbrignadello (Stamina) & Ani Lozanavo (Ani Lo Band) & Antonio Giorgio. More news coming soon.
2020 CELEBRATIONS – IAN PARRY's 30TH STUDIO ALBUM "INFLAGRANTE DELICTO" Now available Worldwide exclusively by METAL MIND PRODUCTIONS.
To order goto:https://shop.metalmind.com.pl/7334,produkt,pl.html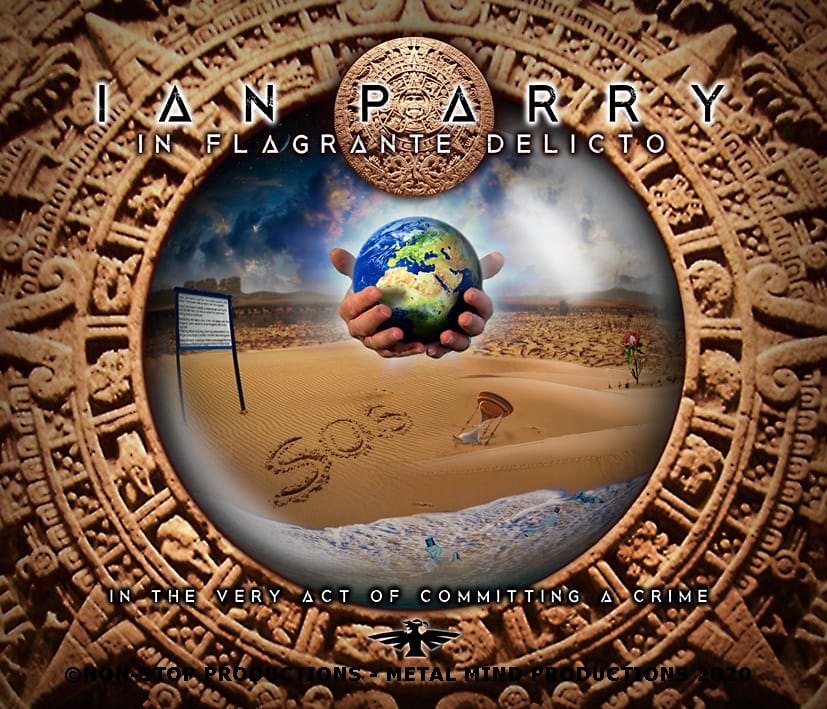 "Happy New Year Everyone". 2020 Ian celebrates his career with the 21-2-2020 release of his 30th studio album "In Flagrante Delicto" (meaning in the very act of committing a crime). In Ian's humble opinion, "the crime being plastic waste, with an added touch of fantasy as well as fiction". 10 hypnotic modern power rock synthesizer/guitar/vocal based songs, this 5th solo album covers a diverse musical style ranging from Yes style synthesizer atmospheres, to Whitesnake/ Foreigner classic rock. There's even a hint of Rammstein together with a commercial heart felt Bad English/Peter Gabriel style ballad elogently performed by former Jean Michel Jarre guitarist Patrick Rondat. "In Flagrante Delicto" has a powerful lyrical anecdote with melodic power rock chords enhanced by modern synthesizer based tracks. With controversial issues very much in the mainstream media at present about plastic and toxic waste, which Ian addressed in part issues of global pollution back in 2006 in "Visions" his 4th solo album. "Visions of a better future at least". Astonishingly after more than a decade the challenges humanity faces to this day seem to be becoming progressively bigger. After spending more than a decade (co-) writing and compiling songs to best illustrate these serious issues, Ian sings out a passionate message from the heart and retains the creative edge for a little fantasy for his fans. The message a simple wish to make more people aware of what's happening in the best way musicians and singers know via their music. Ian once again delivers a great album with the talent and support of his family of incredible musicians; guitarists – Stephan Lill (Vanden plas) & co-writer; Patrick Rondat (Jean Michel Jarre/Elegy/Consortium Project; Timo Somers (Delain/Vengeance ; Keyboard player & Co-songwriter – Jeroen van der Wiel (Rock Emporium/Odyssice; drummers – Casey Grillo (Kamelot/Queensrÿke), Imre Daun (Brian Robertson band/Rock Emporium), Andreas Lill (Vanden Plas); bass guitarists – Barend Courbois (Blind Guardian), Torsten Reichert (Vanden Plas/Ian Parry – Visions) Guido Stocker, plus many more guest musicians performing a selection of 10 masterful tracks.
(see detailed list below).
As an established singer in the world of Rock & Metal with worldwide sales exceeding 200,000, Ian Parry's almost 40 year career beginning with his first professional band Mono Pacific in 1981 (also featuring Zak Starkey Son of Beatles drummer Ringo Starr), has given him the opportunity to work with many well-known artists such as; Kamelot; Elegy; Ayreon; Mob Rules; Royal Hunt; Vengeance; Hammerhead; Valencia; Infinity Overture; Crystal Tears; Von Baltzer & his self-produced 5 album epic rock metal concept Consortium Project.
Now Ian joins forces together with an even more impressive collaboration of world class musicians in a melodic power rock formation performing 10 tracks on his 5th solo album "In Flagrante Delico". (see tracklist below).
Produced by Ian with 30 albums under his belt "In Flagrante Delicto" has been masterfully mixed by Swedish Engineer/Producer Martin Kronlund (Hammerfall/ Firewind/ Rock Emporium).
Now Ian delivers another memorable "back to the roots" melodic power rock solo album, comprising of 10 self & co-written tracks together with Keyboard player Jeroen van der Wiel & Guitarist Stephan Lill. "In Flagrante Delicto" opens a new chapter in Ian's phenomenal career combining passion, true facts & raw power synthesizer / guitar based melodic rock album. In Stores from 21-2-2020.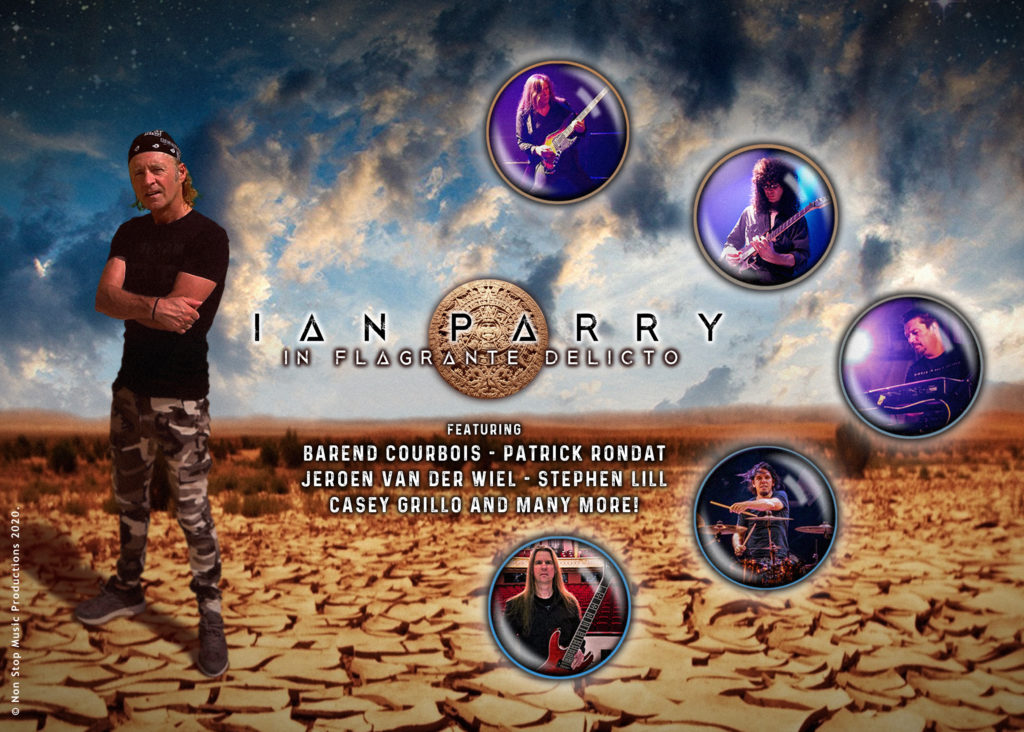 IAN PARRY'S ALL STAR LIVE LINE-UP INCLUDES:
IAN PARRY – Vocals (Rock Emporium/Elegy/Consortium Project/Ayreon/Vengeance/Von Baltzer)
PATRICK RONDAT – Guitar (Jean Michel Jarre/ Consortium Project/ Elegy)
STEPHAN LILL – Guitar (Vanden Plas/ Consortium Project/ Ian Parry-Visions)
JEROEN VAN DER WIEL – keyboards (Rock Emporium/Thirteen/Odyssice)
CASEY GRILLO – Drums (Kamelot/Queensrÿke/Consortium Project/Ian Parry-Visions)
IMRE DAUN – Drums (Rock Emporium/Gypsy Rose/Brian Robertsons The Clan)
BAREND COURBOIS – Bass (Blind Guardian/Rock Emporium/Vengeance)
Guest musicians
ANDREAS LILL – Drums (Vanden Plas/ Ian Parry-Visions)
TORSTEN REICHERT – Bass (Vanden Plas/ Ian Parry-Visions)
JOSHUA DUTRIEUX – Keyboards (Consortium Project/Elegy)
GARRY KING – Additional Drums on bonus tracks (Joe Lynn Turner/Rock Emporium)
MARIO ZAPATA – acoustic, rhythm & Solo guitars (Ian Parry solo Visions)
MARCEL VD ZWAM – additional bass guitar (Consortium Project)
GUIDO STÖCKER – additional bass guitar (Bodyguerra)
JOYCE MEUWISSEN – Female backing vocals (IAN PARRY Solo – Visions)
IAN PARRY "IN FLAGRANTE DELICTO" album tracks:
1. SPACEMAN
2. TRAVELLERS (ACROSS THE UNKNOWN UNIVERSE)
3. IN FLAGRANTE DELICTO
4. FOOL'S PARADISE
5. IMPULSE
6. INGENIOUS (ballad)
7. WISH
8. FLY
9. THE DAY WE STOP DREAMING (ballad)
10. SO FAR SO GOOD
Here's a link to hear the radio sampler & a taste of what's to come: https://www.youtube.com/watch?v=LFUmZ8d5WGA&feature=youtu.be
Or visit the homepage from Metal Mind Productions: https://www.metalmind.com.pl/en/ian-parry—new-album-to-be-released-in-february-2020.html
The songs from "In Flagrante Delicto" are sealed together by an array of modernized melodic rock Synthesizer tracks increasing popular in the worlds 80's & 90's classic rock music scene.
The album will be released worldwide on 21st of February 2020 by Metal Mind Productions (previously released Elegy, plus Tank, Dougie White (ex-Rainbow) & many more great artists).
Ian will continue celebrating his 30th studio album release in 2020 with a fantastic "Blast from the Past" live tour, featuring a selection of songs from his distinguished career as well as a number of special tribute covers for his loyal fans. This 1 hour and 45 minute live show will include tracks from the many album releases going back more than 20 years, performed by an "All-Star" line-up from the best Rock Metal musicians whom also recorded & performed with Ian in worldwide renowned bands such as; Rock Emporium, Vengeance, Elegy, Consortium Project, Ayreon & also appear on the New 5th solo "In Flagrante Delicto". Now these phenomenal musicians; Barend Coubois (Blind Guardian), Bob Wijtsma (Ayreon), Sander Zoer (Delain) & Jeroen Van Der Wiel (Rock Emporium) join forces together with Ian to perform a fantastic kick ass live show under the banner "Act Of Crime" tour 2020.
Incidently Ian's band of brothers live tour musicians also appear in the first video clip from the title track "In Flagrante Delicto" soon to be shown on Ian's YouTube site! (more news coming soon).
Non-Stop Productions are working together with the Dutch Promoter JBM EVENTS (see contact information for bookings: www.jbmevents.com or e-mail: info@jbmevents.nl) who are now booking a number of selected live shows in Holland, Belgium, Germany & Switzerland commencing September 2020. Plans are in the making for further live shows across Europe.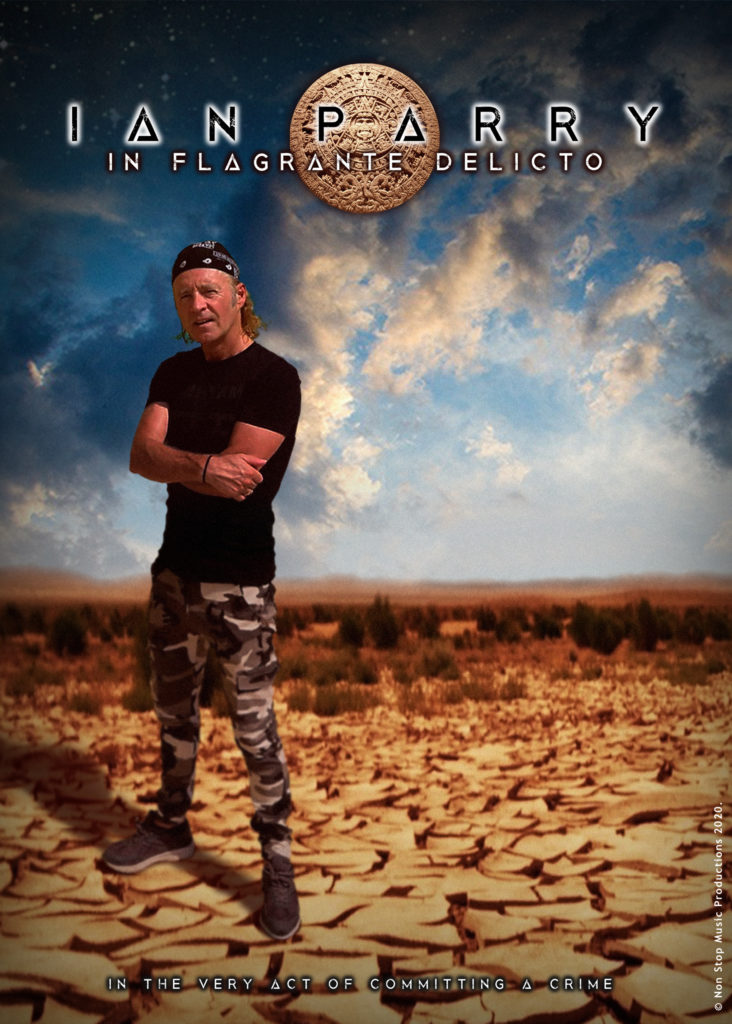 Recently made this video blog for Franklin Mano's webpage Brazil for raising money for food donations during the corona crisis. Please check out the link and show your support.
https://franklinmano.com/blog.php?idb=57806&fbclid=IwAR3D57Jxi5rd_C6ezWy5gSmsHb3M-AQ97M1AMmXoxPPQUr_SM9vIG_YqA8c