UPCOMING
---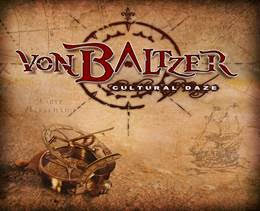 It is with great pleasure to announce the upcoming June 2018 release of the debut Von Baltzer "Cultural Daze" CD across Europe via German label AOR Heaven. "Cultural Daze" was co-written & arranged by Swedish guitarist Christian Kjellstrom & singer Ian Parry. It contains 10 melodic power rock songs and will be available CD & Digital download.
The release in Japan, China, Taiwan & Asia will follow late June via Spiritual Beast.
Check out the debut Von Baltzer video "All Night Long" via YouTube
---
Ian is presently writing and recording songs for a 5th IAN PARRY solo album which he hopes to release around September 2018.
Quote Ian: "I am really looking forward to releasing this long awaited 5th solo album since the release of my VISIONS CD back in 2006. It will include previously unreleased solo album material featuring a number of special guest appearances". The style of this album will be more commercial rock with a number of ballads requested by many of our fans and friends around the world".
More details to follow soon.