My Biography
Ian Parry – British singer, songwriter and producer

Ian was born in 1960 in Liverpool. He has released over 34 albums credited in over 35 countries reaching sales in excess over 200,00 and a career covering more than 40 years.
Ian has worked with many great musicians/singers in rock & metal:
Tony Martin (Black Sabbath)
Zak Starkey (Oasis,The Who & Son of Beatle Ringo Starr)
David Rosenthal (Rainbow/Robert Palmer)
Thomas Youngblood/Casey Grillo(Kamelot)
Stephan Lill (Vanden Plas)
Patrick Rondat (Jean Michel Jarre)
Airrace (featuring Jason Bonham (son of Led Zeppelin drummer John Bonham)
Dutch Artists Ayreon
Jan Vayne, Valensia & Ivar de Graaf (Within Temptation)
Live tours, performances & studio recordings
DORO
Elegy
Eternity's End
Rock Emporium
Crystal Tears
Stratovarius
Mob Rules
Royal Hunt
Joe Stump (USA)
Mike Chlasciak (Halford)
Sascha Peath (Heavens Gate)
Rock Emporium
Graham Bonnet (Rainbow) support tour.
Von Baltzer
Ian's debut began in 1985 in the hard rock band Hammerhead, signing exclusively to EMI Records, also featured David Rosenthal (Rainbow) & drummer Joe Franco (Twisted Sister & Widowmaker). Hammerhead recorded "Heart made of Steel", which after 15 years locked away in the EMI Electrola achieves, was finally release in 2000 by Pseudonym records and Marquee records Japan.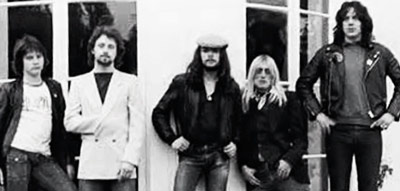 Having worked in various british bands as Mono Pacific with Zak Starkey (son of the Beatles drummer Ringo Starr) and Airrace (formerly with Jason Bonham, son of Led Zeppelin drummer Jon Bonham), Ian's initial break came with the hardrock band Vengeance. After working & touring throughout Europe for more than 2 years, Vengeance were to release a farewell compilation c.d. on Sony Records, "The Last Teardrop".
Later a final complete album with Ian was released in 1994 by Alfa Records, Japan, entitled "The last of the Fallen Heroes". The c.d. contains 12 co-written songs by Ian and guitarist Arjen Lucassen. More recently in 2000, Transmission record in Holland released a 14 track c.d. called "Wings of an Arrow". This album covers more comprehensively the songs Ian recorded with Vengeance.
NSMP 1993
Ian's own Studio "Non-Stop Music Productions (NSMP)" was originally foundered under the name Non-Stop Productions.
The idea behind NSP was to enable Ian to produce his own albums independently from record companies and later license his productions to labels worldwide.
The Solo Albums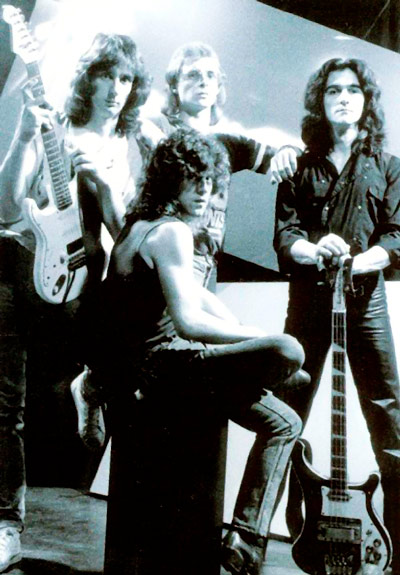 In 1993 came the release of Ian's first solo c.d. "Symphony of Dreams ". Initially an A.O.R./Rock album, it was released in over 15 countries and received very positive reviews. Songs were performed and recorded live in England for MTV Headbangers' Ball.
"Artistic Licence" was Ian's 2nd solo album release. It contains powerful performances from; René Merkelbach (Gorefest) on keyboards, & drummer Ernst van Ee (Helloise). The broad style varies from hardrock, with such songs as "Bad Business" & the historical ballad, "Turn back the tide" depicting the disaster in Abervan, Wales.
Consequently both solo albums were released under license in Japan by Zero Corporation, and due to their initial success, Ian was invited to Tokyo for a radio/press promotion visit. This coincided with the release of "Evolution II" the 2nd album from guitarist Misha Calvin. Ian has also performed and co-wrote songs on Misha's 1st CD. "Evolution", together with Black Sabbath vocalist Tony Martin, and performed live shows in Europe, including The Marquee Club, London in September '95.
Ian's 3rd solo album "Thru' the Looking-Glass", is undoubtedly his best solo achievement to date. Incorporating unique vocals and classic Metal/hardrock songs, it features a guest performance from Vengeance/Ayreon guitarist Arjen Lucassen. It contains co-written contributions from Arjen & Misha Calvin, plus some of Ian's strongest material combining hardrock with melody. Released in both Europe and with Zero Japan, Ian and his band filmed a video clip. The track chosen, was "Wildhearts". Shot in and around the old docklands area of Rotterdam, the video had it's premier on the Wet & Wild show, from T.M.F. Holland, and was broadcast on a cable music T.V. show in Cincinnati, USA called Audio Vision, and MTV France.
Later in '99 all of Ian's three solo albums were re-released in Japan by Nippon Crown. In addition Ian re-mastered a selection of his best songs from his 3 solo albums, and the result was an astounding compilation c.d. called "Shadowman", which had a worldwide release by Noise records Germany in 2000. This album was very well received by both the press and fans alike. Fourth solo album "Visions" in 2006 & 5th and last solo album "In Flagrante Delicto" released worldwide in 2020 by Metal Mind Productions.
Elegy 1996 – 2002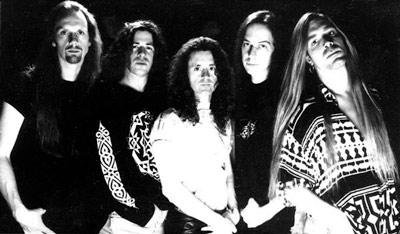 In February '96, Ian joined the Dutch Symphonic Metal Band Elegy. The band with worldwide sales in excess of 150,000 who previous recorded 3 albums, on the request from J.V.C. Japan, Ian made his debut with
Elegy Singing on their acoustic mini-c.d. "Primal Instinct". Having sold over 10,000 copies, Modern Music/T&T released it in Europe.
In 1997, Elegy released the album "State of mind", including their debut in USA & Canada, which received rave reviews the world over, & went on to sell more than 45,000 copies, resulting in a successful 30 date Tour of Europe, performing to more than 30,000 people. In addition Elegy filmed it's debut Video clip " Visual Vortex ", which was broadcast by a.o. Viva T.V. Germany, T.M.F. Holland, M-Sat Hungary and Captain Wada Japan.
Shortly after Elegy played additional shows in Japan, where Ian was nominated in the Burrn magazine readers poll for best singers of 1997!
In 1998 Elegy recorded their 6th album "Manifestation of fear" at Area 51 studio's, which was produced by Tommy Newton. The lyrical concept was written by Ian. The worldwide release was in August '98, followed by a co- Head Liner tour of Europe with American metal act Kamelot.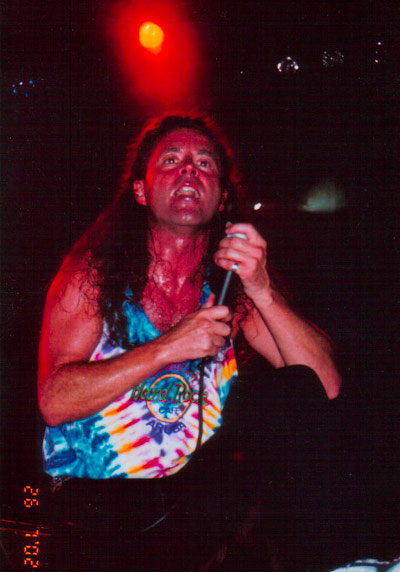 2000 saw the release of Elegy's 6th studio album "Forbidden Fruit". Comprising of a collection of short stories, combining fantasy and fiction, with tragedy and tales of bliss, the album addresses man's urge and many weaknesses existing over thousands of years, in search of the ultimate "Forbidden Fruit" included specially performed live acoustic bonus tracks by Henk van de Laars & vocals by Ian Parry recorded in '98 at the JVC studios Japan.
Elegy consciously put together a Masterpiece of Metalized Musical Explosions, in a Melancholic Madness, to grip our attention, awaking senses we never even realized exist. Decisions were made to emphasize the band's earlier uptempo style, portrayed in "Labyrinth of Dreams" and "Supremacy". Elegy recaptured its roots, their original progressive, metal fabric which helped build the band's fan-base. A true regeneration in the establishment of Prog-Symfo-Metal Supremos all over the world. Power in the extreme sense of the word, guitar twins to curl the ears, gripping choruses, that even your grandmother would remember, " Forbidden Fruit" has these hypnotic elements and more. Featuring their new guitarist, ex-Jean-Michel Jarre axeman, Frenchman Patrick Rondat, whose guitar virtuosity will inspire many, Elegy embarked on a new crusade into the Millennia
In early 2001 Ian was working on songs for Elegy's new album "Principles of Pain". Quote Ian: "The topic of the next Elegy album, will be about Love, relationships and all Matters of the Heart. This is why the title is called Principles of Pain, meaning the pain and suffering we encounter in our lives as we experience the true meaning of Life. Elegy decided not to do a Concept album and write about a subject which fans all over the world could relate to easily. The music is technical like previous Elegy albums and stays in a Progressive Powermetal style, containing 2 ballads, 2 Neo-Classical uptempo double bass drum tracks, a slow heavy metal guitar riff theme with a great groove, and many mid-tempo melodic metal tracks, with catchy chorus lines."
"Principles of Pain" was recorded in Madrid in Jan/Feb' 2002 for release via Marquee records Japan & Asia in April 2002, then worldwide in May 2002 via Locomotive Music Spain. The release was supported by Live Festivals across Europe from June 2002, then followed by a European tour Sept' 2002."
Consortium Project 1999 – 2011
The album entitled "Ian Parry's Consortium Project" was released first in Japan, together with Ian's previous 3 solo albums, by Nippon Crown on September 22nd 1999, then in October in France via Olivier Garnier's new label N.T.S. & throughout Europe via the popular progressive German label, InsideOut & via ex-Dreamtheatre manager Jim Pitulski's new prog-metal label Insideout America. Further releases included South America via Progressive/Megahard records in November. The Consortium Project band performed a number of Sell out shows at Cafe de la Dans in Paris, and Lyon, France and toured throughout Europe receiving great reactions in Germany, Holland & Belguim in later that year. The line-up for the tour appearing with Ian, included: Patrick Rondat & Stephan Lill – Guitars, Dirk Bruinenberg – Drums with the addition of the Vanden plas keyboard player Gunter Werner & Rondat bassist Patrick Guers.
→ read more about Consortium Project I – 'Criminals & Kings'
After worldwide reclaim for the debut Consortium Project album in 2000, Ian has just produced his Consortium II CD. entitled "Continuum in Extremis"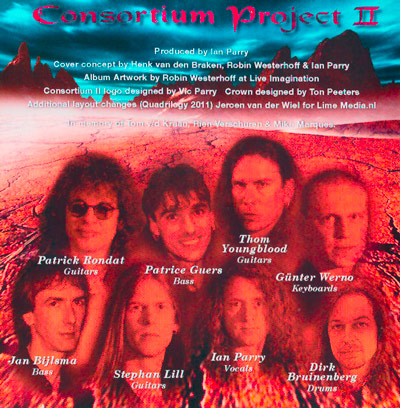 2001 saw the release of a new extraordinary Concept album, "Continuum in Extremis" The Consortium Project II album is a concept c.d. consisting primarily of 11 symfo-progressive melodic powermetal tracks, including a inspirational rockballad with additional bonus tracks for Japan & the USA. Ian based his fictional concept story, on many of the present day issues and created a theoretical idea of world run by a new singular female species called NOEFEMS. Quote Ian: "I was flicking through pages in the Oxford English dictionary and it suddenly dawned on me, that the word feMALE is derived from the masculine word MALE, and apart from the word FEMININE, women do not have a word purely of feminine origin to describe their own singular gender", and thus the idea was born.
This formidable and awe inspiring story, incorporates many issues and topics, which have been in the media recently, such as the discovery of the Human Genome, Global Warming ( namely the American President's stubbornness to support the Kyoto agreement ), the issue of human cloning and also the hysteria we've seen around Reality T.V. programmes. All these relevant points, have been pieced together with real historical facts. The creation is a fictional world going out of control, which is saved by women (Neofems), who prevent man from destroying the planet.
Their realization is a new peaceful world enclosed in a Biosphere, where Man (now referred to as Monomales), have no part of this new order.
The strength of Consortium II lies not only in Ian's unique lyrical concept, but is also due to the incredible performances and co-written songs by some of the world's best symfo-progressive metal guitarists, who enhance the atmosphere of this cleverly written concept album. Ian who personally coordinated the production duties for Consortium II recorded the album in various studios throughout Europe and the USA. "Continuum in Extremis" was mixed by ex-Victory guitarist/producer Tommy Newton (Helloween, Elegy, Kamelot, & Ark) at his Area 51 studios in Germany. Consortium Project II is a unique collaboration and a must for Progressive-Powermetal music listeners around the world. This incredible concept album was 1st released in Japan Sept 2001 via King Records, then later in Europe & South America Oct' 2001 via Locomotive Music. Nov' 2001 saw Ian's 1st release in Korea via Sail Productions and finally a release across North America via Napalm records.
→ read more about Consortium Project II – 'Continuum in Extremis'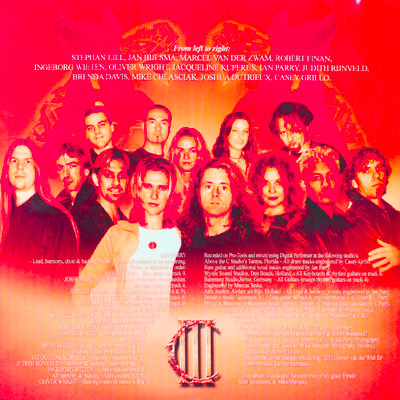 This story concept was continued by Consortium III "Terra Incognita (The Undiscovered world)" in 2003. In the conclusion human species again was one. The reunification of our species was a smooth transition. Monomales and Neofems worked together for the preservation of all, their own human kind. So it would be, as the truth was written long before. Mankind had learnt it's lessons the hard way and history would never again be repeated.
"Terra Incognita" was performed by: Ian Parry – lead & harmony vocals, Stephan Lill – guitars, Casey Grillo – drums, Joshua Dutrieux – Piano & Keyboards, Jan Bijlsma – bass guitar. As special guests there were: Mike Chlasciak of "Halford" – guitar, Sascha Peath of "Heavens Gate" – guitar, Ingeborg Wieten – female vocals and the newcomers Judith Rijnveld of "Kingfisher Sky" – Female vocals and Brenda Davis of "Sequel" – Female vocals.
→ read more about Consortium Project III – 'Terra Incognita – The Undiscovered World'
During the promotion of his solo album "Visions" in early 2006, Ian was astonished by the interest from journalists for Ian to continue his rock metal concept story.
Quote Ian:" originally I only intended to make a Consortium Project Trilogy! Towards the end of 2005 I had co-written songs with my colleagues Joshua Dutriuex and Ivar de Graaf and we all agreed at the time that these powerful tracks would be ideal for a Consortium Project IV CD. So after having received such overwhelming positive reactions, it's the first time in my twenty odd years in the music business, that I've actually been inspired by Journalists to make another album. This time around my colleagues and I decided to make focus more on the raw edged guitar orientated metal style, rather than writing progressive Songs, but still keeping the symphonic keyboard elements. The approach is to use keyboards in musical passages this time around, like Hollywood does in movies and enhance the concept story by having spoken intro's with a female story teller like on C 2 and creating epic choir type atmospheres illustrating the concept story more."
So the story of Consortium Project IV is set centuries in the future and describes a tale how future generations go in search of there historical past. This magnificent offering entitled "Children of Tomorrow" is a co-produced album by Ian and Elegy keyboardist Joshua Dutrieux. Consortium IV was released in July 2007 across Europe via the German rock metal label AOR metal Heaven and has received many great reviews. In addition Ian made his debut in the USA releasing his latest solo c.d. and Consortium IV via California based Prog-rock records and the response for both albums has been very positive.
Upcoming scheduled releases for the Consortium Project IV and other albums from Ian's vast catalogue were planned for Brazil via the Sao Paulo based metal label Dynamo records, due for release in November 2007. Later in December Ian got his 2nd official release in Russia via Mystic Empire records.
Consortium Project 4 video clips "Enigma" received more than 30,000 hits on youtube.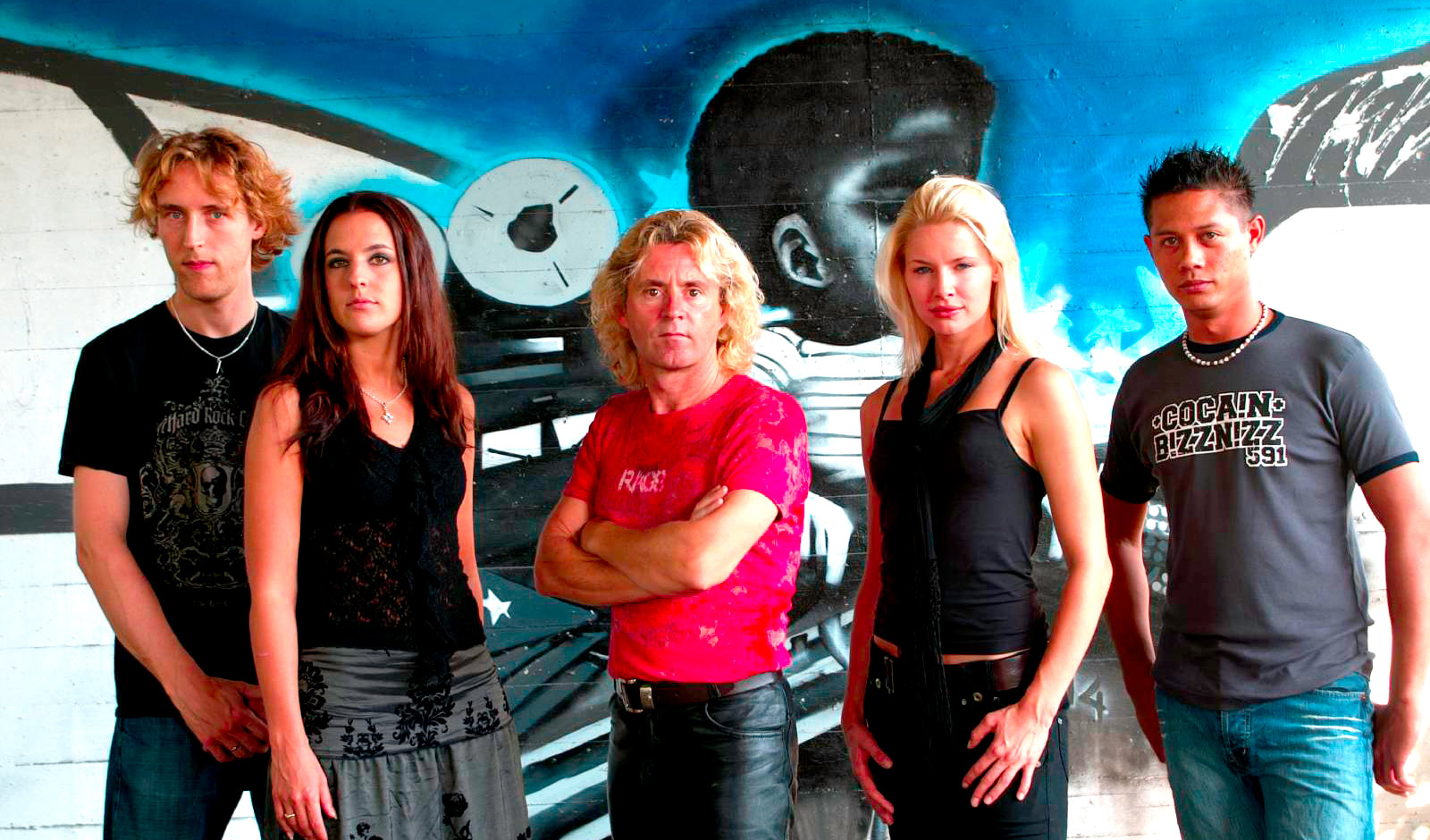 Ian Parry's Consortium Project IV – Ivar de Graff, Judith Rijnveld, Ian Parry, Rosita Abbink and Joshua Dutrieux – 2008
"Children of Tomorrow" was performed by: Ian Parry – lead & harmony vocals, Joshua Dutrieux – Guitar&Keyboards, Ivar de Graff – drums, Judith Rijnveld – Female vocals. As special guests there were: Henk van der Laars of "Elegy" – guitars, Lou St Paul of "Winters Bane" – guitar and the newcomers Erna Auf der Haar – female vocals and Rosita Abbink – female vocals.
→ read more about Consortium Project IV – 'Children of Tomorrow'
Consortium Project V "Species" is the title of Ian's fifth and final part of his epic rock metal Concept in 2011.
Featuring performances from many of the best musician's from the gothic rock and Metal scene worldwide. Quote Ian:" I wanted to make the final chapter of my concept story the best of all 5 album and this is by far the ultimate productions with some of the strongest performances and best songs I have written."
Lion Music released the Consortium Project V "Species" CD on July 15th 2011, followed by the release of the Consortium Project Quadrilogy re-masters every 2 months during 2011 and the Consortium Project farewell tour.
"Species" is a culmination of brutal and melodic Symfo-gothic-power metal at its best. It was already the 21st worldwide album release from Ian celebrating a career of over 25 years in the world of rock & metal.
Quote Ian: "I would like to take this opportunity to thank everyone who has supported the Consortium Project V and Quadrilogy albums. It is a challenge this time around to write and produce the best and heaviest of all 5 Consortium albums. I really want to emphasis the fact that in my conceptual story women save the world. This is why I want more involvement from these great female vocalists on Consortium V."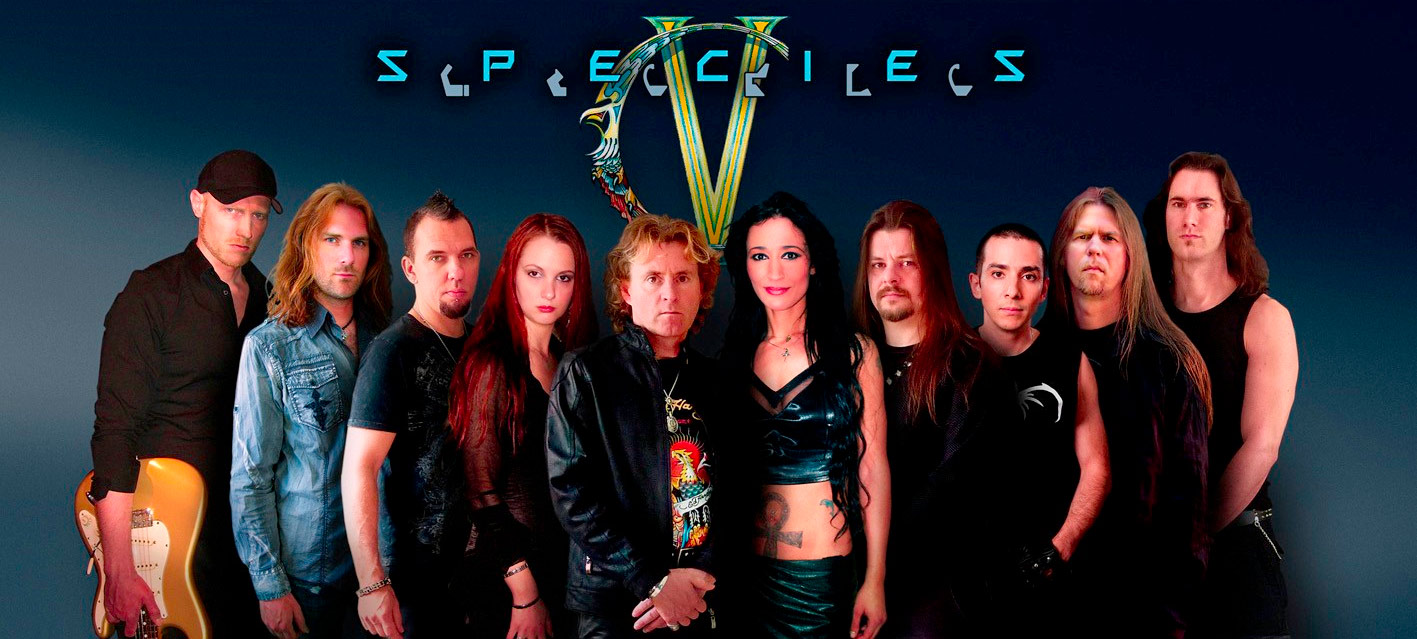 Ian Parry's Consortium V "Species" 2011
"Species" was performed by: Ian Parry – lead & harmony vocals, Stephan Lill – guitars, Niels Vejlyt – guitars, Lene Petersen – Female vocals, Casey Grillo – Drums, Kris Gildenlöw – Bass, Jens Faber – Bass. As special guests there were: Markus Teske of "Red Circuit" – Keyboards and the newcomers Ani Lozanova – Female vocals and Kalin Jechev – Piano & keyboards of "Ani Lozanova Project" and Peter-Jan Kleevens of "Hammerhead" – Keyboards.
→ read more about Consortium Project V – 'SPECIES'
Visions 2006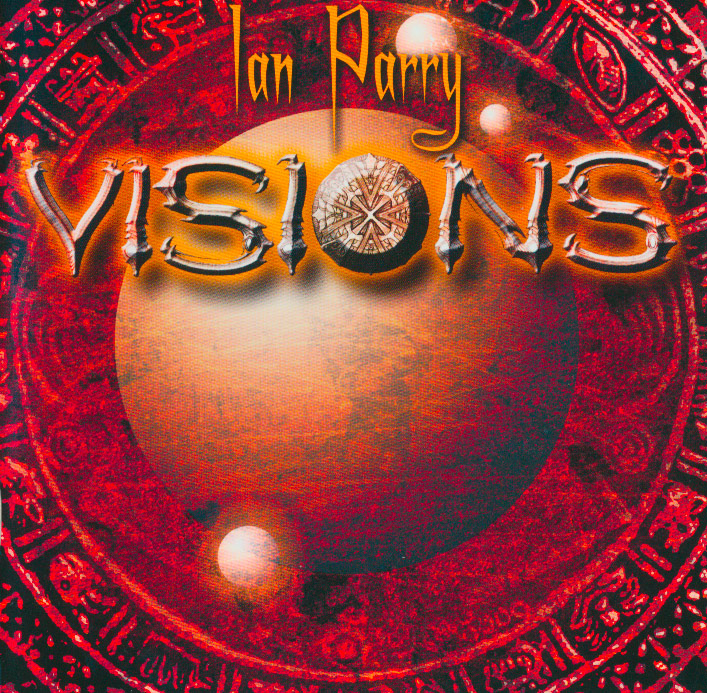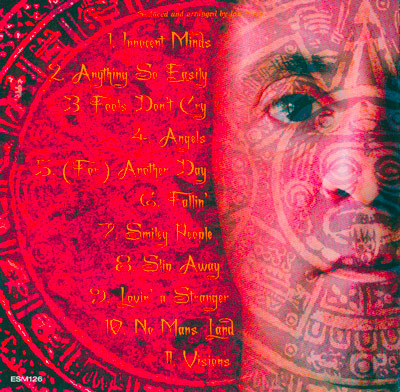 Let us go back to 2006 to the release of Ian's first solo cd in 10 years entitled "Visions". A combination of gothic rock, melodic metal to symphonic progressive rock. "Visions" was released in Europe via Escape music UK, later in 2006 in Mexico via Scarecrow records where Ian visited for the first time on a promotion trip. "Visions" was later released in Brazil via Dynamo records in 2007, together with Ian complete back catalogue. During a promo trip to Toronto Canada "Visions" received much acclaim. Back in Europe, the journalists obviously appreciated the diverse style of songs Ian recorded for "Visions" being more modern, more commercial Rock and Symphonic Metal, included performances from Casey Grillo (kamelot), Ivar de Graaf (former Within Temptation) and Vanden Plas guitarist Stephan Lill, and gave the album the best reviews Ian has received during his entire career.
A detailed list of musicians performing "Visions":
Ian Parry – Vocals, Keyboards • Casey Grillo – Drums • Joshua Dutrieux – Piano, Keyboards, Guitars •
Alfred van der Zwam – Guitars • Stephan Lill – Guitars • Mario Zapata – Guitars • Stefan Weissmueller – Keyboards (additional) • Marcel van der Zwam – Bass • Torsten Reichert – Bass • Ivar de Graaf – Drums & Vocals (backing) • Andreas Lill – Drums • Judith Rijnveld – Vocals & Harmony Vocals • Rosita Abbink – Vocals (Secondary Lead and Choir) • Chris de Rooij – Vocals (backing) • Kyra Dutrieux – Vocals (backing) • Joyce Meuwissen – Vocals (harmony and choir) • Handan Erdogrul – Vocals (Arabic Intro) • Christine Wolff – Vocals (additional choir)
Rock Emporium "Society of friends" 2016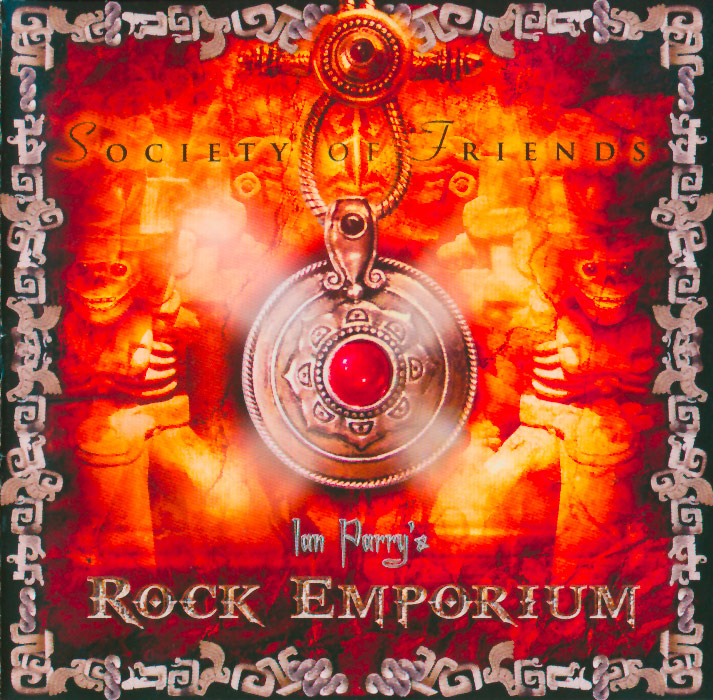 After recording lead and backing vocals for German guitarist Christian Muenzner and his debut Eternity's End band album 2015, Ian put his talents into writing producing and now for his first time mixing his debut classic rock metal band ROCK EMPORIUM. The debut studio album entitled "Society of Friends", (also featuring Timo Somers (Delain) & Barend Courbois (Blind Guardian) & plus special guest performers, was released in March 2016 in Europe & Japan via British label Escape Music Ltd.
(Escape Music previously released Ian's 4th solo cd Visions in 2006)

ROCK EMPORIUM – SOCIETY OF FRIENDS 2016
Line-up debut Rock Emporium studio album "Society of Friends" featuring members of Blind Guardian, Elegy, Joe Lynn Turner band, Vengeance, Ayreon, Consortium Project, Delain & guests from Alkaloid & other amazing talented musicians.
JUNE 2021 WORLDWIDE RELEASE ROCK EMPORIUM BRUTE FORCE VIA METAL MIND PRODUCTIONS.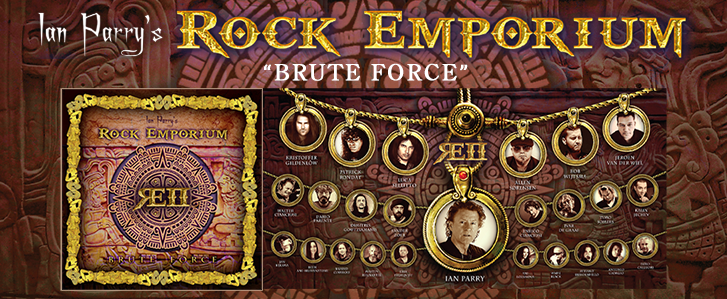 Friday June 4th 2021 sees the worldwide release of Rock Emporium "Brute Force"via Metal Mind Productions & partners PHD (UK) & MVD (USA). A very proud day in deed. Already had the first 2 interviews in Metal Hammer Poland & Rock Hard Czech Republic.
Special Thanks to my 25 colleagues for helping me make this album a masterpiece. (see performance details underneath).
Track listing for Rock Emporium 2 "Brut Force".
In Isolation
Darkest Secrets
'Til The Day I Die
My Confession
Brute Force
Fairytale
Lethal Injection
Rings Of Fire
Dreamworld
Where Do We Go From Here
One Vision – Bonus Tribute To Queen & Freddie Mercury
Rock Emporium 2 "Brute Force" is performed by:
IAN PARRY – Lead, harmony & choir vocals all songs. Midi Lead synth strings & organ on; 5 & 7.
KRIS GILDENLÖW – Bass guitars on tracks; 1,2,5 & 7.
PATRICK RONDAT – Rhythm & solo guitars on track; 5.
LUCA SELLITTO – Rhythm, acoustic, solo guitars & strings on tracks; 2,3,6,7 &10. Backing vocal choirs on track; 3.
ALLAN SØRENSEN – Drums on tracks; 2,3,4,5,7 & 8.
BOB WIJTSMA – Rhythm, solo guitars & backing vocals on tracks; 1 & solo part on track 11.
JEROEN VAN DER WIEL – Piano, Strings, Cello, Sequencer & Organ on tracks; 1 & 11.
GUEST MUSICIANS;
Bass guitars –
Jan Bijlsma (The Element/Vengeance) performs on track 8.
Barend Courbois (Blind Guardian/Consortium Project 1) performs on track 8.
Beth-Ami Heavenstone (Graham Bonnet/ Alcatrazz) performs on track 9.
Martin Helmantel (Elegy/ 7 Miles to Pittsburgh) performs on bonus track 11.
Erik Palmqvist (Von Blatzer) performs on track 8.
Svante Henryson (Malmsteen/ Joey Tempest) performs on track 6.
Drums –
Enrico Cianciusi (Headless) performs on track 9.
Patrick Johansson (Malmsteen/Impelliteri/Vinny Moore) performs on track 6.
Sander Zoer (Delain/Leah) performs on track 1.
Ivar de Graaf (Within Temptation/ Kingfisher Sky) performs on bonus track 11.
Keyboards – Kalin Jechev performs on tracks; 4 & 8.
Guitars –
Fabio Calluori performs on track 11.
Walter Cianciusi (Geoff Tate/Headless) performs on track 9.
Dimitris (Gudz) Goutziamanis performs on track 4 & 11.
Dario Parente (Geoff Tate/Headless) performs on track 9.
Timo Somers (Delain) performs on track 8.
Vocals –
Wade Black (Crimson Glory) Choir, harmony & lead vocal part) on track 11. Stefano Sbrignadello (stamina) Choir, Harmony & Lead vocal part on track 11.
Already had my first 2 fantastic radio interview in the USA & Italy. Special thanks to Tobi & Lori from Powerslaves show on Metal Messiah Radio Florida USA. Also DJ Mike at Metal Maximum Radio Italy.
→ read more about 'SOCIETY OF FRIENDS'
Guest vocal Performances: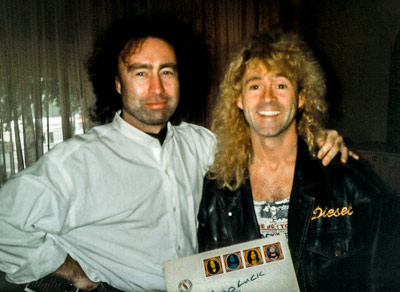 As a result of Ian's success in Japan, Marquee records released an 18 track compilation c.d. from his previous band "Perfect Strangers". The songs were recorded during the band's brief time together between '88 & '89, and features ex-"Vandenberg" drummer Jos Zoomer, "Vengeance" bassist Barend Courbois, and "Hammerhead" guitarist Wilko van Beek.
In December 1997, Ian recorded a "Live in Budapest" album, with Hungarian Guitarist Tamas Szekeres, which was released in Japan September '98, via Marquee records.
Summer '99 Ian was asked by Meteorcity records based in New Mexico USA, to record a track for their upcoming Iron Maiden tribute c.d. "Slave to the Power". Also appearing with Ian are members of US Metal giants Kamelot, and the recordings were made at the studio from Kamelot drummer Casey Grillo in Tampa, Florida called Above the C studios. The release for this fantastic Iron Maiden tribute CD., was December '99 and later in 2000 via JVC Victor Japan to celebrate Iron Maiden's reunion with singer Bruce Dickenson. As a result of Ian's success in Japan, Marquee records released an 18 track compilation c.d. from his previous band Perfect Strangers. The songs were recorded during the band's brief time together between '88 & '89, and features ex-Vandenberg drummer Jos Zoomer, Vengeance bassist Barend Courbois, and Hammerhead guitarist Wilko van Beek.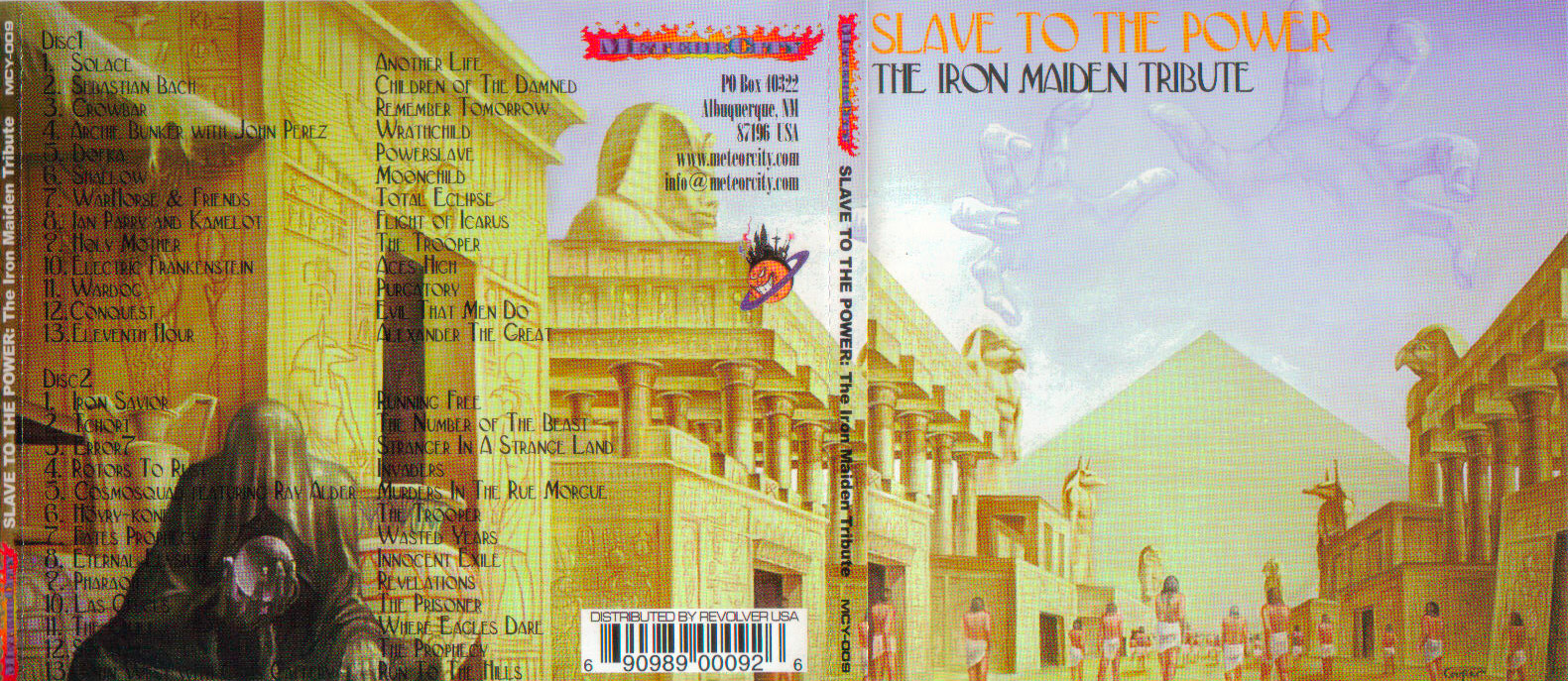 It also features many more incredible singers & musicians from around the world i.e. John West (Royal Hunt), Sabastian Bach (Skid Row), Chris Gaffery (Savatage) plus others.
Ian also had a guest appearances on the Valensia No.2 hit "Gaia" on Phonogram records, and an additional guest appearance singing and co-writing with guitarist Arjen Lucassen on his very successful rock opera "Ayreon" and again in 2000 Ian wrote lyrics and recorded vocal on "Sleeper Awake" which was a song from the "Ayreon- Flight of the Migrator" CD plus additional vocal tracks on the compilation album, "Ayreon- Ayreonauts only" 2000.

For his great success in 2000, Ian was invited to sing lead vocals on the new solo album from "Royal Hunt" (3 times winners of the Buurn magazine readers poll in Japan) keyboard wizard/Songwriter-producer Andre Andersen. The style is classic rock, with a taste of class. The scheduled release was Feb' 2001.
2014 Ian was invited to sing as guest for Italian band "Headless" for a European support Tour with "Fates Warning" in Croatia, Belgrade Serbia, Sofia Bulgaria and Athens Greece.
As a matter of fact, Ian's experience has gained him worldwide acclaim as a dynamic well respected vocalist with the same combined passion & power!
In 2016 he collaborated co-writing and recording songs with Swedish Guitarist Christian Kjellström and his debut band "Cultural Daze" CD from Swedish rockers VON BALTZER! In May 2017 Ian recently filmed 2 video clips and recorded additional choir vocals at Milk Studio in Sweden for the debut Von Baltzer studio album released in Europe by AOR Heaven Germany June 2018 and in Japan, China, Korea & Asia via Spiritual Beast July 2018. Von Baltzer plan upcoming live shows starting in Sweden late 2018 & across Europe including Belgium, Serbia, Croatia and other European countries at festivals throughout 2019.
Summer 2018
Ian embarked on a 12 show official tour support across Europe with ex-Rainbow singer Graham Bonnet.
2019 IAN BACK IN STUDIO RECORDING VOCALS and SONG WRITING for his 5TH SOLO ALBUM "IN FLAGRANTE DELICTO.
Ian continued writing 6 more new songs for his 5th solo album "In Flagrante Delicto" meaning in the very act of committing a crime. The album features guitarists Stephan Lill, Patrick Rondat and drummers Casey Grillo, Andreas Lill and Imre Daun plus many more guest musicians. The album was mixed in Sweden by Martin Kronlund- Hammerfall/Firewind- and was successfully licensed to Metal Mind Productions worldwide.
2019 Video filming of "In Flagrante Delicto".
With colleagues Barend Courbois – Blind Guardian – Rock Emporium; Jeroen van der Wiel – Rock Emporium – Thirteen; Bob Wijtsma – Ayeon; Sander Zoer – Delain. Ian films on location a fantastic video clip "In Flagrante Delicto"being the title track of his new 5th solo album.
https://www.youtube.com/watch?v=G6mGc9ZG1f8&fbclid=IwAR31bcQ6goj9sjS-tt3BZzjFCY1mWGo7U1bHoOVAnfDu6iEaGZNK_D5uCy4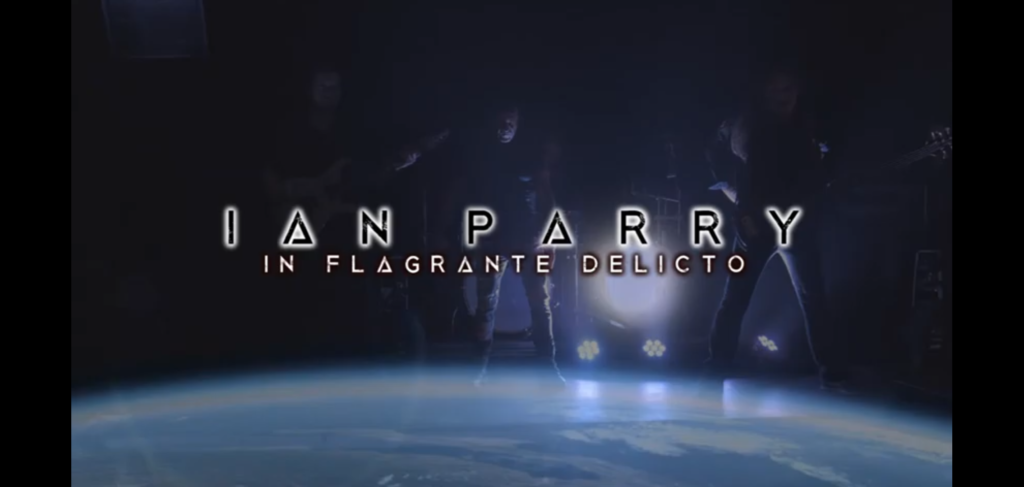 2020 Ian celebrates his 30th album recording with the worldwide release of his 5th solo album"IN FLAGRANTE DELICTO.
After many years of co-writing and recording songs Ian Parry celebrates his 30th studio album with the release of "In Flagrante Delicto" his 5th solo album released worldwide exclusively by Metal Mind Productions on 21-2-2020.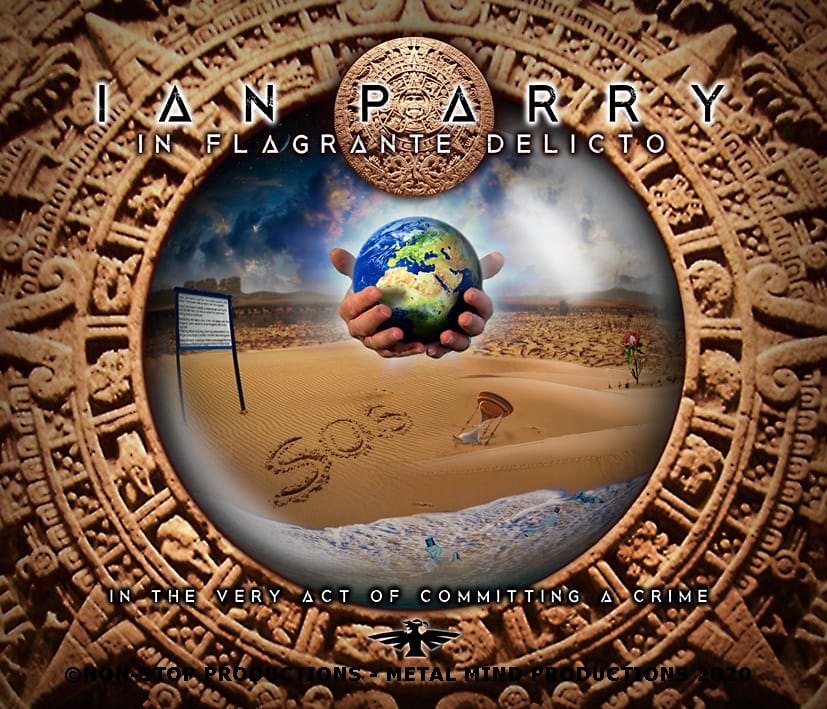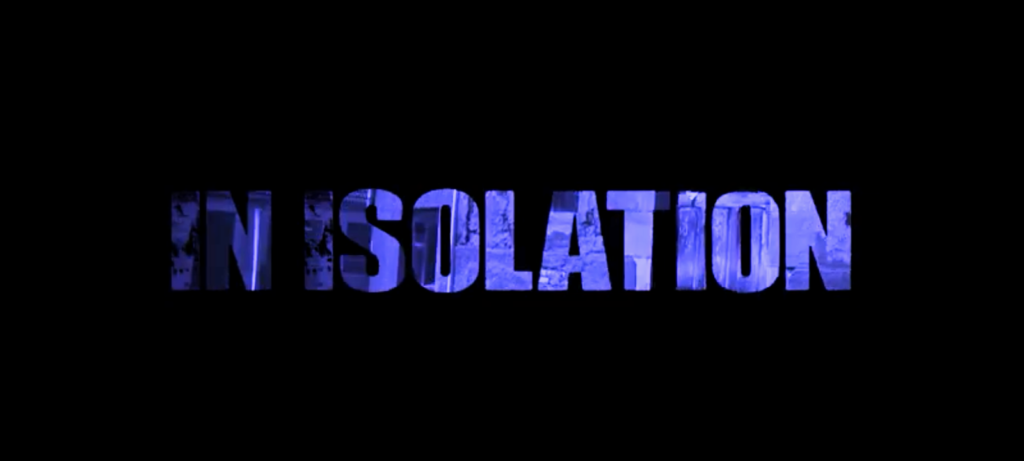 2022 NEW 2ND OFFICIAL VIDEO IN ISOLATION ROCK EMPORIUM BRUTE FORCE
Ian Parry's Rock Emporium 2 Brute Force official video – IN ISOLATION – YouTube

In Isolation is the 2nd video taken from Ian Parry's Rock Emporium 2 Brute Force album. This powerful melodic classic metal track was written by Bob Wijtsma (music) & Ian Parry (lyrics & vocal melody). The video also features the very talented musicians whom performed the music on In Isolation from the Rock Emporium 2 Brute Force album: Ian Parry – vocals Bob Wijtsma (Ex-libris) – guitar Kris Gildenlow )Kayak/ Pain of Salvation) – bass Jereon van der Wiel (Odyssice/ Rock Emporium) – Keyboards Sander Zoer (Delain) – drums. Filmed on location in the Netherlands by Lars Wijtsma & Ian Parry in France. Special thanks to Rob van Dalen location manager in the Netherlands. Video editing Francesco D'Acunzi at Mess Lab studios Italy. (C) Non-Stop Productions (P) Metal Mind Productions 2022