LEGENDS
The legendary projects – ROCK EMPORIUM – CONSORTIUM – ELEGY
---
---
---
---
---
---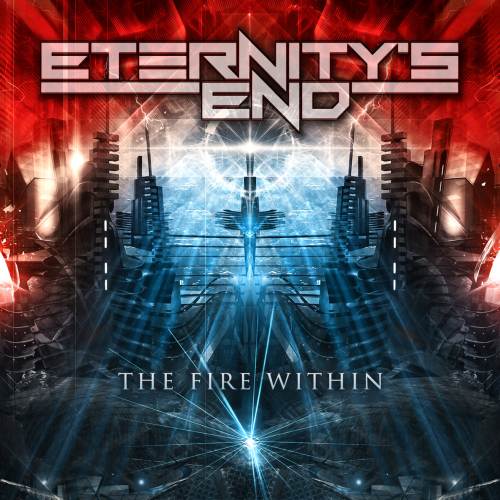 Fire Within was released in Europe and Japan via Marquee records in 2016 and contains 10 incredible melodic power metal tracks with the exception of a co-written melodic Hard Rock track "White Lies". (see review for description).
Progressive power metal gold – 98%
Agonymph, January 14th, 2018
Written based on this version: 2016, CD, Power Prog Records
Everything Christian Muenzner touches turns to gold, or so it seems. Obscura was one of the very few modern technical death metal bands I loved, Alkaloid was one of the most unique progressive metal bands in recent years and 'The Fire Within', the debut album from his progressive power metal band Eternity's End, contains some of the best contemporary power metal I have heard in years. Muenzner appears to be the melodic conscience of most of his bands and it is that side that of his songwriting personality that is on full display here. No song here is less than good.

Being a progressive power metal album, 'The Fire Within' contains all of the guitar harmonies, whirlwind guitar solos, memorable choruses, fantasy lyrics and Symphony X-isms you could wish for, but Eternity's End adds a much larger dose of intensity and aggression to the mix. As a result, the riffs set the record on fire and the choruses sound proud and strong rather than tepid invitations to sing along. It helps that Ian Parry sings these songs, as these are his best performances since his early Elegy days. His clean-but-raw approach is perfect for Muenzner's songs and he sometimes reaches heights I didn't realize he was capable of reaching.

As good as Parry, keyboard player Jimmy Pitts and the rock solid rhythm section of Muenzner's former Obscura buddies Linus Klausenitzer and drummer extraordinaire Hannes Grossmann are, Muenzner's riffs are really what make the record. They have a fat, beefy bottom end, which gives them a propulsive quality that many modern power metal bands lack. They are often fast, but Muenzner knows how to apply dynamics do his songs, often opening up an otherwise dense song with a strong chorus or a remarkable melodic passage, which is the case in songs like the excellent 'Eagle Divine' or the incredible 'The Hourglass'.

Songwriting-wise, there is literally nothing to complain about here. The album has a really pleasant flow, moving back and forth between gripping, catchy power metal songs like 'Demonblade', 'Moonstruck' and the title track and more epic tracks like the monumental closer 'The Fall Of The House Of Usher'. The latter feels significantly shorter than the eight minutes it actually takes to finish and the instrumentals are nothing short of breathtaking. Halfway through, the relatively midtempo, eighties hardrock inspired 'White Lies' manages to function as a breather without even getting close to ballad territory.

There is almost too much talent in Eternity's End, but fortunately, all of the musicians involved are aware of the fact that the songs are more important than displays of virtuosity. Sure, there is some incredible musicianship going on, by Grossmann and Muenzner himself most prominently, but no single solo triumphs over the immense melodic qualities of this masterpiece of an album. Anyone whose heart beats faster upon hearing energetic, yet classy power metal should at least give Eternity's End a chance. I can assure you more "chances" will follow. Here's to hoping this will be more than a one-off.

Recommended tracks: 'The Fall Of The House Of Usher', 'The Hourglass', 'Eagle Divine'

Originally written for my Kevy Metal weblog
Fitting Title…Because This Album is On Fire! – 99%
Dragonflame1994, March 27th, 2016
Written based on this version: 2016, CD, Power Prog Records
Here's a little known fact, tech-death legend Christian Muenzner known for some of the most blistering guitar work ever written in the greatest tech-death bands to ever form including Necrophagist, Obscura and Spawn of Possession is also a huge fan of neo-classical power metal, in his own words he called the style "his first love" which he wanted to return to for many years now and so the realization of that dream came about in the creation of Eternity's End! I myself am a huge fan of neo-classical power metal, I actually consider it to be my favorite genre of music and I have been highly anticipating this album for a couple years now. Let me tell you now that it does not disappoint in the least bit! If you're a fan of 80s Yngwie Malmsteen and 90s Symphony X you'll love this album.

So let me explain to you now why this album will be regarded as one of the greatest modern neo-classical power metal albums of all time. The Fire Within has the same line-up as Christian's last instrumental neo-classical solo album (Which I personally consider one of the top 5 greatest instrumental solo albums ever), except this time with the inclusion of the powerful, gritty and driving vocals of Ian Parry, who is a Dio disciple if I've ever heard one, one of the closest to sound like the grandfather of heavy metal that I've heard in many years. However. I wouldn't call Parry a Dio clone. Yes, he stays mostly in the Dio-esque gritty tone, but he is also known to unleash some killer falsettos at times. His vocal work in the mid-paced, anthemic mini-epic about Stephen King's dark fantasy series, aptly titled "The Dark Tower" is especially fantastic.

Christian's songwriting is in absolute top shape here, I guarantee it'll take only one listen of tracks like "The Fire Within" or "Eagle Divine" to get stuck in your head with how catchy those choruses are and all the melodic hooks the songs have. Naturally with neo-classical metal, the lead work is the focal point here and between Christian's blazing fast solos and Jimmy Pitts' equally astonishing keyboard wizardry, it's hard to imagine a fan of shred not being satisfied by this album. Just listen to the jaw-dropping fretwork displayed on songs like "Moonstruck" or "Twilight Warrior" and try not to be amazed. Speaking of the keyboards, aside from the insane solos Pitts does, he also really knows how to add to the atmosphere of a track as well. Most notably that synthy intro to White Lies will take you back in time to the days of Yngwie's album Trilogy, but also the little orchestral touches to songs like "Demonblade" or the awesome harpsichord bits in many various songs enhance the epicness of them.

So I seem to have been neglecting the rhythm section of the band this entire time (Much like a lot of neo-classical metal seems to do) and I apologize for this because Muenzner, may be known for his shredding, but he is definitely a riff machine as well. Very technical and heavy riffing that has a bit of a tech-death feel to it at times (Hmmm, I wonder why?) can be heard on almost every song, but my personal favorite riffs come from the thrash infused "The Fall of the House of Usher" and the more proggy "Hourglass", Christian's riffing might also remind you of Symphony X guitar legend Michael Romeo occasionally.

Now on to the backbone of the band, the drums and bass. Hannes Grossmann is widely recognized as one of the most talented drummers in the metal scene today. His drumming on this album is no different and his galloping drum patterns and double bass kick fury gives these songs that special added boost of excitement. Linus Klausenitzer is also a very competent bassist and while his bass playing may take a bit of a backseat in this band and not be as adventurous as the tech-death bands he's in, he does find a nice groove in the band and add to the intensity that this upbeat kind of music craves.

Overall this album is Muenzner and company firing on all cylinders, at all times. Starting with a nice heavy riff and some lightning fast arpeggios in the title track, this debut album from Eternity's End barely slows down from that point on, with just a couple mid-paced songs and absolutely no cliché power ballads, The Fire Within is, wait for it….On fire! From start to finish and leaves nothing to be desired if you're a fan of shredtastic and riff driven, catchy, speedy, melodic power metal.
---
---
---
---
---
---
---
---
---
---
---
---
---
---