CD REVIEWS – 2021 ROCK EMPORIUM "BRUTE FORCE"
I wanted to share this honest and sometimes funny interview i did with Powerplay magazine. Nice to be mentioned back home in the UK & thanks to the editor Mark Lacey & all the staff at Powerplay. Enjoy! Stay safe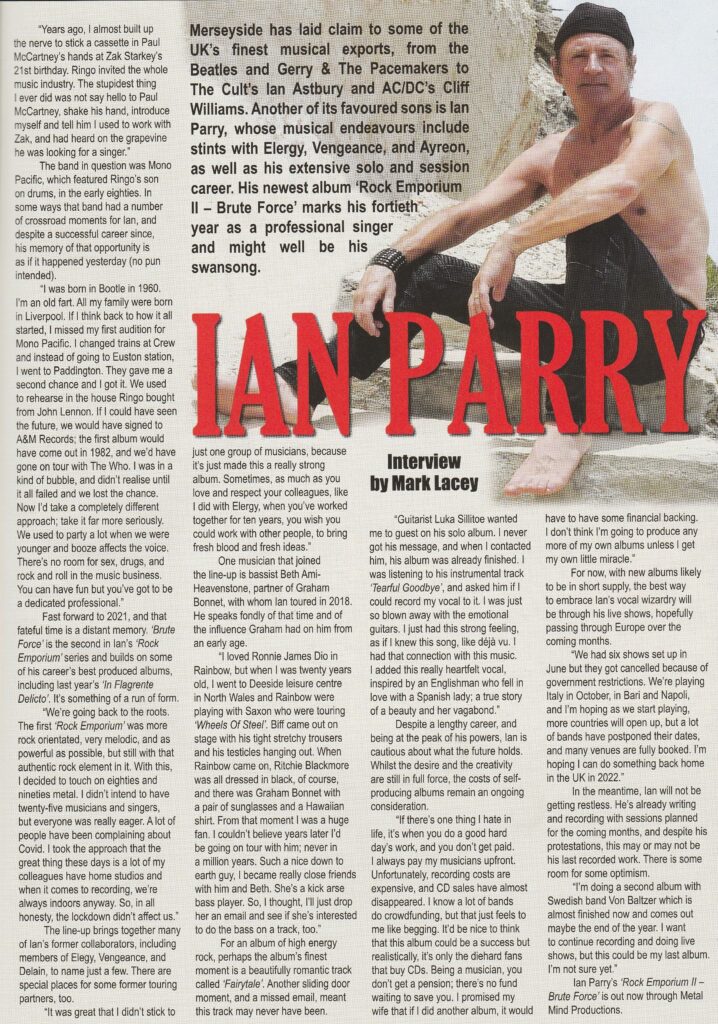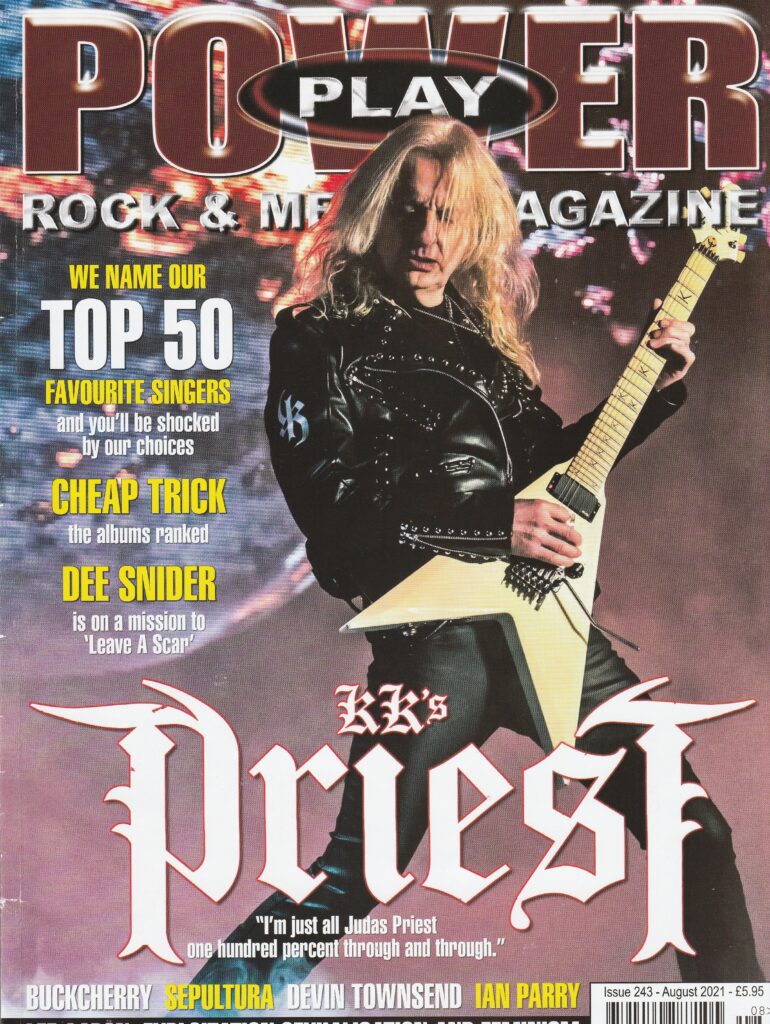 Another fanstastic 8 out of 10 review in the Rock Hard magazine Germany / Austria. Special thanks to Journalist Jenny Ronnebeck

Ian's first interview with the Metal Hammer Poland June 2021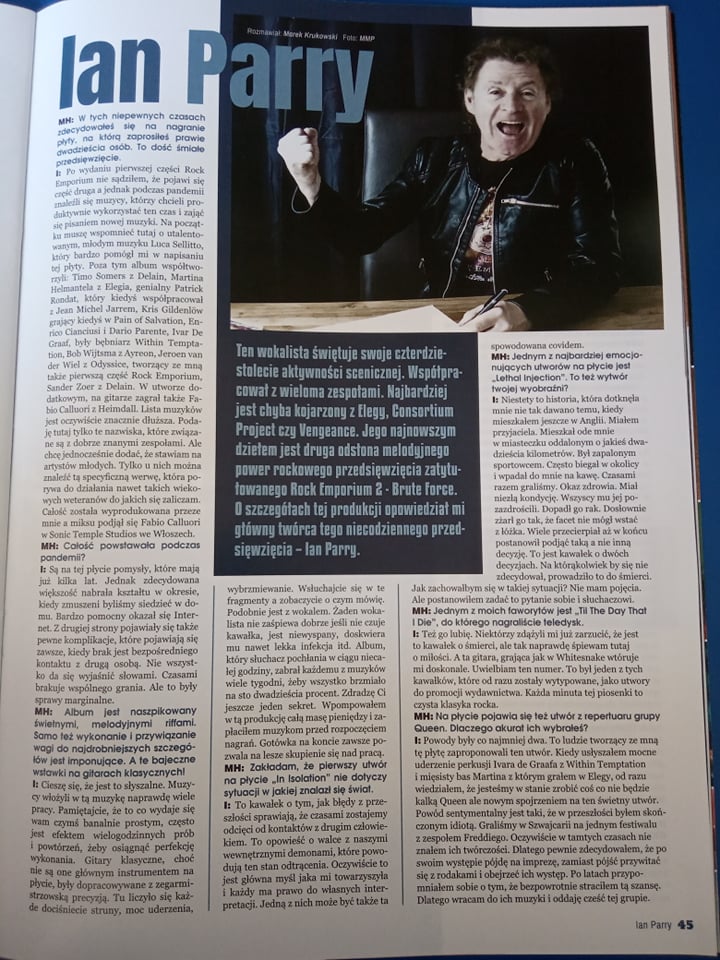 Rock Report Belgium review including readers own comments:
https://www.rockreport.be/albums/rock-emporium-ian-parrys-brute-force
Rock Hard review Czech Republic & Slovakia July 2021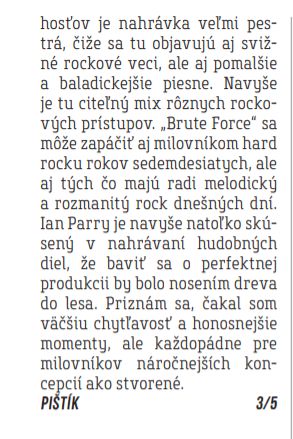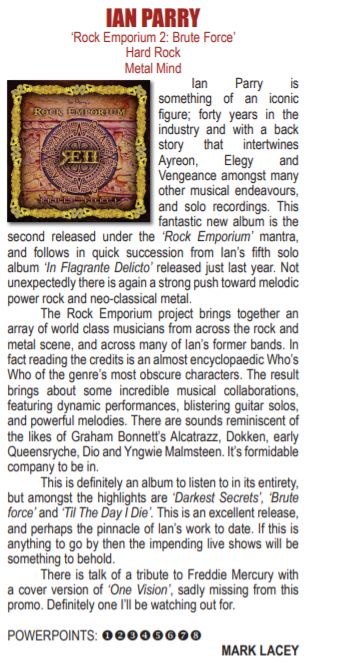 A proud moment to be recognized back home in the Uk by Powerplay magazine UK with a great interview (coming soon) & a fantastic 8 out of 10 cd review by Powerplay journalist Mark lacey.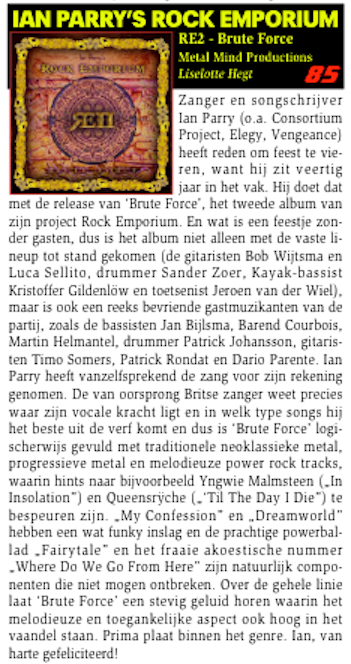 The first very positive & honest review from the Netherlands and a respectable 8.5 out of 10 points. Special thx go to Journalist Liselotte Hegt.
Extra thanks to David van Hartingsveldt for the English Translation
Singer and songwriter Ian Parry (a.o Consortium Project. Elegy, Vengeance) has a reason to celebrate, because he has been in the business for forty years. He does that with the release of "Brute Force", the second album of his Rock Emporium project. And what's a party without guests, so the album was not only created with the regular lineup (guitarists Bob Wijtsma and Luca Sellito, drummer Sander Zoer, Kayak basist Kristoffer Gildenlöw and keyboardist Jeroen van der Wiel, but also several guest musicians also appear, such as the bassists Jan Bijlsma, Barend Courbois, Martin Helmantel, drummer Patrick Johansson, guitarists Timo Somers, Patrick Rondat and (Walter Cianciusi) Dario Parente. (and not forgetting 6 powerful drum tracks from Allan Sorenson ex Pretty Maids/Royal Hunt drummer). Naturally Ian Parry took care of the vocals. The originally British singer knows exactly where his vocal strength lies and in which type of songs he comes out best and so 'Brute Force' is logically filled with traditional neoclassical metal, progressive metal and melodic power rock tracks, in which hints to, for example, Yngwie Malmsteen ("In Insolation") and Queensrÿche ("Till The Day I Die"). "My Confession" and "Dreamworld" have a somewhat funky influence and the beautiful power ballad "Fairytale" and the beautiful acoustic song "Where Do We Go From Here" are of course components that should not be missed. Across the board "Brute Force" shows a strong sound in which the melodic and accessible aspect is also highly valued. Great album within the genre. Congratulations to Ian!
IAN PARRY 5TH SOLO ALBUM IN FLAGRANTE DELICTO REVIEWS 2020
Here are the latest worlwide cd reviews for my 5th solo album "In Flagrante Delicto" 2020.
Special Thx to Journalist Duncan Jamieson & all at Powerplay magazine UK for this exceptional 8 out of 10 review, not only for In Flagrante Delicto, but for the huge compliment for my friends & colleagues; Jeroen van der Wiel; Joshua Dutrieux; Stephan Lill & all. It's great to know that our music is also appreciated back in my homeland. Stay safe! Ian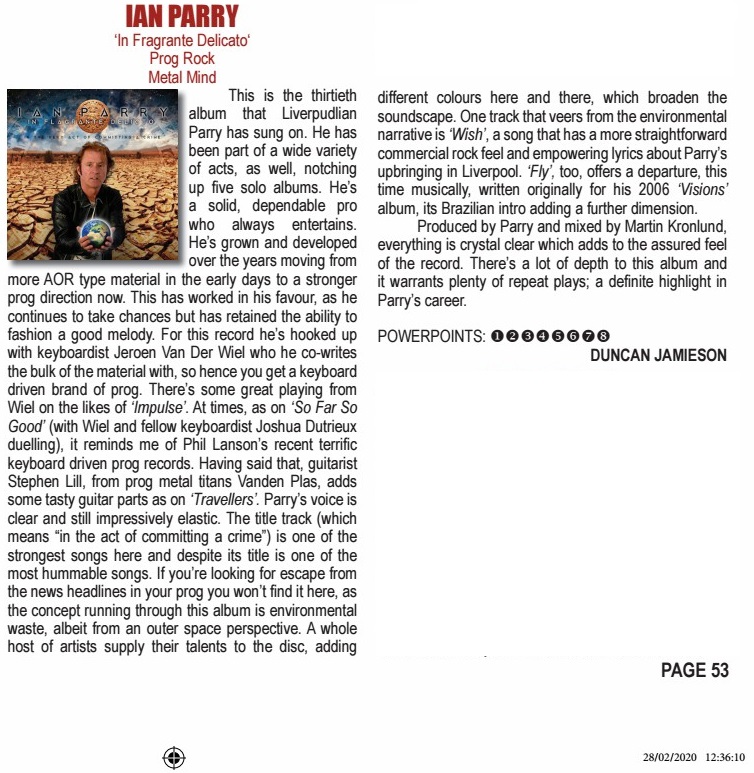 A 2nd surprisingly positive Dutch review in the Prog Rock magazine I.O.Pages including compliments to my musicians & friends: Stephan Lill, Torsten Reichert (Vanden Plas), Patrick Rondat (Jean Michael Jarre), Jeroen van der Wiel, Casey Grillo (Queensyche/Kamelot), Barend Courbois (Blind Guardian) & Martin Kronlund. Special Thx to Journalist Menno von Brucken Fock.
English Translation: Born in Liverpool Ian Parry is one of the singers who has helped to form the present day style of melodic rock. He has achieved this not only through his work with Consortium Project, Elegy and his solo albums (what readers of I.O.pages are much familiar with), but also for his many guest performers with artists such as; Misha Calvin (Evolution I & II) Valensia, Ayeron & many more making him well-respected artist. After almost 40 years in music Ian still has the drive & motivation to bring together some of the best musicians in the symphonic rock genre such as; Stephan Lill, Torsten Reichert (Vanden Plas), Patrick Rondat (Jean Michael Jarre), co-songwriter & keyboard player Jeroen van der Wiel, (Odyssice) whom make this an exceptional multi style & incredible 5th solo album. The rhythm section includes none other than Casey Grillo(Queensryche/Kamelot) and someone who has worked with Ian on many albums bassist Barend Courbois. Ian's voice is solid and as strong as ever with his incredible technique and unique vocal style. The production was mixed by producer Martin Kronlund (who worked together with Ian on the 2016 Rock Emporium debut album), makes "In Flagrante Delicto" a perfect sounding production. The 10 strong tracks and 45 minutes of fabulous keyboard intros creates a not so much uniquely different album, but more hypnotically melodic themes. Though less heavy than previous albums "In Flagtrante Delicto" is more accessable to a bigger audience, especially the last song "So Far So Good" a very heartfelt catchy song. Review written by Menno von Brucken Fock.

8,5 out 10 & a very positive Spanish revi ew. Thx to shemsuhor at:
https://rateyourmusic.com/release/album/ian-parry/in-flagrante-delicto/
English Translation:
It is an open secret that I am passionate about Ian Parry's music. The British vocalist has been accompanying me for the last 22 years of my life, taking that distant year 1998 as the starting point with the edition of that glorious Manifestation of Fear together with the Dutch Elegy.
Parry is a unique guy, a vocalist with unshakable technical mastery, plus a genius at coloring hyper-complex, convoluted and self-imprinted voice lines that few musicians are capable of developing.
Since the end of Elegy back in 2002 and after the point and aside from the Consortium Project in 2011, Ian has focused all his artistic efforts on his solo career. In Flagrante Delicto is already his sixth studio album as a solo musician, delving into the usual stylistic line, with Technical / Progressive Metal at the center of his proposal, with very elaborate songs, full of arrangements and great instrumentation, all crowned by some vocal brand lines of the house, elongated in terms of melodies and especially convoluted in terms of colors and nuances.
Recording and production in Holland, the country where the good guy Parry has lived for a lot of years, with a lot of great artists shaping all the instrumentation work, with Jeroen Van Der Wiel (Odyssice) on keyboards, also carrying almost all the compositional weight of the album, with Stephan Lill (Vanden Plas) and Patrick Rondat on guitars, the usual Barend Courbois on bass, supported by the German Torsten Reichert (Vanden Plas), with Andreas Lill (Vanden Plas), Casey Grillo ( Kamelot, Queensrÿche) and Imre Daun (Kharma, Alien) to drum works.
45 minutes of hyper artistic ProgMetal, an ups and downs of emotions at the surface, talent and more talent to round off a fantastic album again, a whole slide of feelings and musical excellence. Parry continues to sing like angels, while all the instrumentation work brushes past absolute perfection.
Undoubtedly one of the most personal and talented artists in the entire scene, a true genius, clearly revealed in songs like "Ingenious", excellent, "Wish", with excessive strength and freshness, or "The Day" itself We Stop Dreaming ", delicacy at the service of the best Symphonic Prog on the Planet.
An unexpected Amazing review in the Dutch magazine Arrow Lords of Metal.nl Score 8 stars out 10.
(English translation)
The Englishman singer Ian Parry has been active in the metal world for more than thirty years & naturally with a well-earned reputation. In addition to his vocal contributions in bands such as; Hammerhead; Elegy; Vengeance & his own Consortium Project, he has also made virtually countless guest contributions on numerous albums & projects. In addition to his guest performances Ian has also been active as a solo artist & now delivers his new 5th solo album "In Flagrante Delicto".
As usual Ian Parry brings us this no-nonsense classic hard rock album with a touch of progressive influences, but always keeps an eye on the melodic aspect in the music. In this style he swims vocally like a fish in water, which is clear in this new record. Even the test of time has not in any way effected the voice of this old school rocker. In fact Ian delivers a powerful performance alongside instrumentalists; Stephan Lill & Andreas Lill (Vanden Plas); Patrick Rondat (Elegy/Consortium Project/Jean Michel Jarre); Timo Somers (Delain); Barend Courbois (Blind Guardian/Rock Emporium) & Casey Grillo (Kamelot/Queensryche/Consortium Project) are a noticeable driving force on "In Flagrante Delicto". Naturally the list of musicians can be called impressive to say the least, but the success of a record still stands or falls due to the quality of the song material. I am proud to say that Ian has delivered the goods on this records admirably. The best examples of how strong the songs are can be heard in the title track "In Flagrante Delicto"; "Fools Paradise" & "So Far So Good". The real strength of this record is that there are no weak songs. This is not a uniquely innovative album, but personally I am not looking for that at all. In conclusion we can say Ian Parry's 5th solo album "In Flagrante Delicto" is a well made album that will reach the hearts of all classic hard rock followers.
Written by journalist Sjak Roks.
Another great review from Brave Words Canada. 8 out of 10. Special thanks to Journalist Carl Begai.
http://bravewords.com/reviews/ian-parry-in-flagrante-delicto
https://www.headbangerslifestyle.com/albums/2437/ian-parry-in-flagrante-delicto-metal-mind-productions
8 of 10 review & full page interview in Rock Tribune Belgium (also for our Dutch Fans) Positively written with a huge compliment for my musicians & friends; Jeroen van der Wiel (co-writer); Andreas Lill; Stephan Lill (co-writer); Casey Grillo; Timo Somers & Patrick Rondat. Special thx to journalist Hans van Peppen. (English translation coming soon).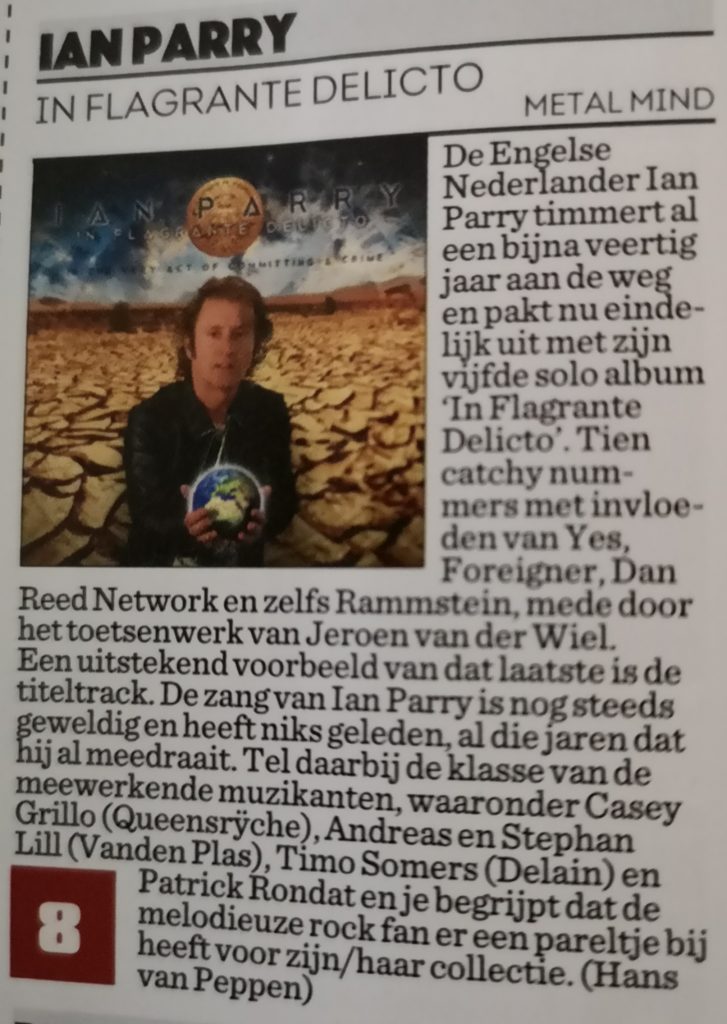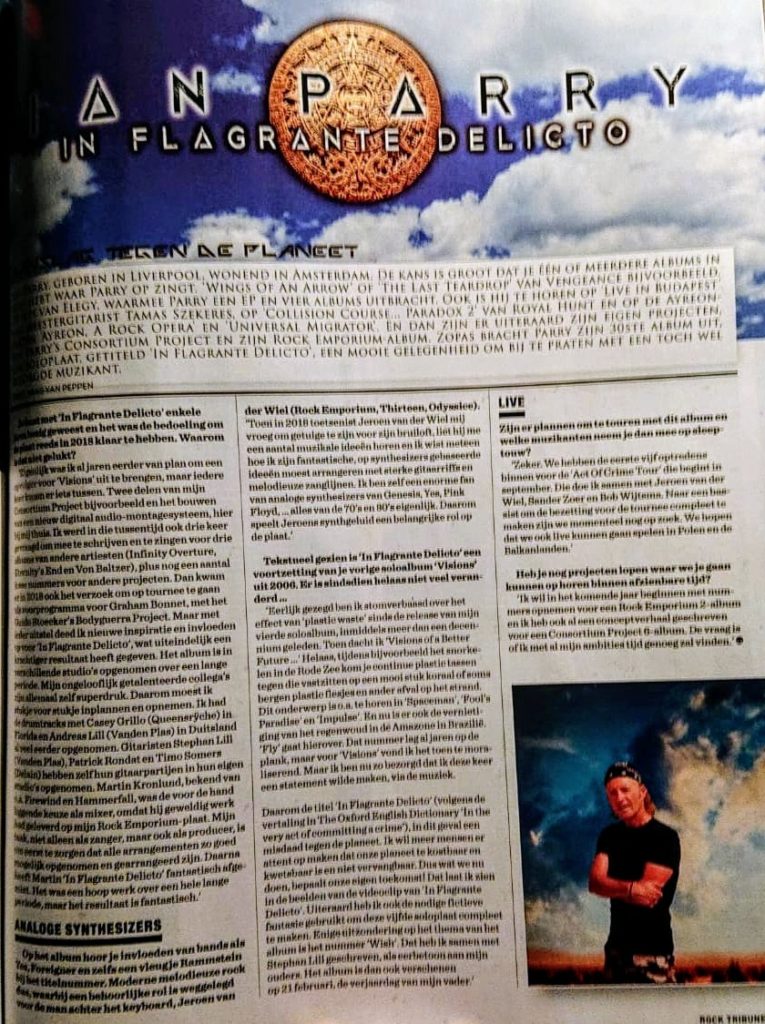 Posted on: February 11, 2020