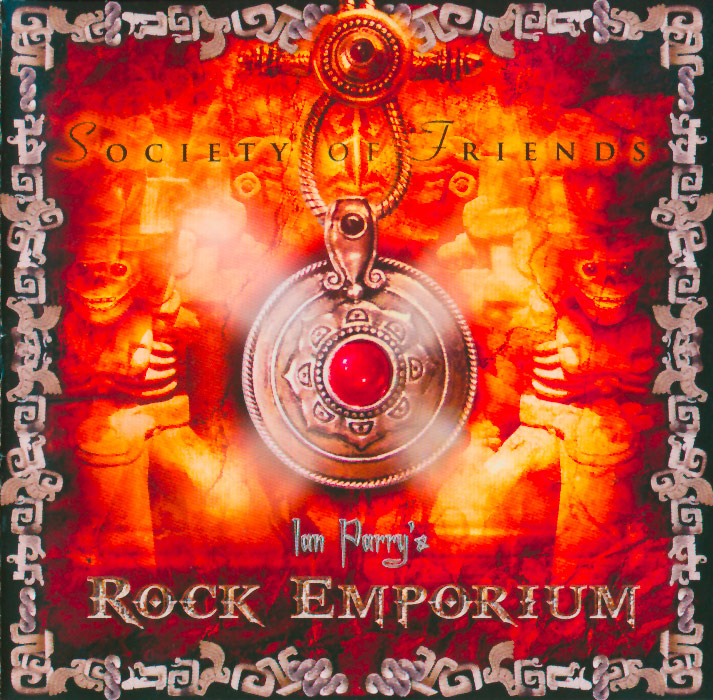 Release Date: 18th March 2016
A detailed list of musicians performing 'SOCIETY OF FRIENDS'
Ian Parry – Vocals (Elegy/Ayreon/Vengeance)
Dimitris Goutziamanis – Guitar (Crystal Tears)
Timo Somers – Guitar (Delain/ Vengeance)
Garry King – Drums (Jeff Beck/ Joe Lynn Turner/ Achillea)
Barend Courbois – Bass (Blind Guardian/Michael Lee Firkins/Vengeance)
Jeroen Van Der Wiel – keyboards (Thirteen/ Odyssice)
Guest musicians:
Christian Muenzner – additional Solo guitar (Alkaloid/Eternity's End)
Thiago Trinsi – additional Solo guitar & orchestral strings arrangement
Peter Jan Kleevens – Keyboards (Consortium Project/ Hammerhead/Monroe)
Kalin Jechev – Keyboards (Consortium Project/Ani Lo)
Harry Den Hartog – additional bass guitar Bad Coh tribute)
Ani Lozanova – Female backing vocals (Ani Lozanova Project)
Produced by Ian Parry
The Songs
1. Stone Cold Fever 4:00
2. Shame 2:59
3. Ministry of Rock 3:50
4. Circles 3:24
5. Most Unforgivable Thing 4:26
6. Silhouettes & Dreams 4:06
7. Crazy Fools & Madmen 3:56
8. Skin Deep 4:11
9. Start All Over Again 3:23
10. Society of Friends 3:10
11. Finish What You've Started 4:12
Total Running Time: 41:37
Ian Parry's 25 year musical career
working with a very diverse and distinguished collection of musicians in a handful of bands including Consortium Project, Vengeance, Elegy plus as a solo act and lending contributions to other established artists such as Kamelot; Ayreon; Mob Rules; Royal Hunt and more recently Ian's 5 album pentalogy epic rock metal concept Consortium Project. Back in 2006 Ian also recorded a solo album "Visions" with Escape Music, so its great news to have another collaboration in 2016.
With accumulated worldwide sales in excess of 200,000 Ian Parry has gained a well-earned reputation as one of the most established singers in the world of Rock and Metal.
Now Ian joins forces together with an even more impressive collaboration of world class musicians to form a new Classic melodic Power rock formation "Rock Emporium".
Produced & for the first time mixed by Ian who has written some of his most memorable melodic back to the roots songs, "Society of Friends" is a retrospect view on life, love, heartache & pleasure including prestigious performances and vintage classic Melodic Power Rock at it's best.
British singer born and raised in Liverpool, singer songwriter & founder of Rock Emporium has releases credited in over 35 countries worldwide accumulating sales in excess of 200,000.
Here is a list of the great musicians and singers that Ian has worked with from the world of rock and metal:
Tony Martin (ex-Black Sabbath), Zak Starkey (Oasis,The who & Son of Beatle drummer Ringo Starr), David Rosenthal (Rainbow), Stephan Lill (Vanden Plas), Dutch Artists Ayreon, Jan Vayne & Valensia. Kamelot (USA).
In 2015 Ian recorded vocals for Christian Muenzner & his debut Eternity's End album. Live performances include; DORO; Stratovarius; Joe Stomp (USA guitarist) Late 2014 European live shows in Croatia. Belgrade Serbia. Bulgaria & Greece with Italian band Headless opening for US prog rock giants "Fates Warning".
Ian's experience has achieved him worldwide acclaim as a dynamic well respected vocalist and a creative lyricist/songwriter/arranger/producer. After 12 years and 5 concept albums from his epic Consortium Project (the 5th final part C V "Species" released in 2011), Ian now opens a new chapter in his phenomenal career going back to his roots bringing us passion, pain and power in a Vintage Classic AOR melodic Hard Rock album.
Rock Emporium comprising of 10 memorable heart felt rock tracks a must for classic rock radio DJ's and fans worldwide. "Society of Friends" is the debut of Ian Parry's Rock Emporium with some of the most amazing performances by Rocks 1st class musicianship from across Europe!
Each song captures remnants of the 70's 80's best rock artists from ACDC to Asia, Bon Jovi to Boston, with a hint of Peter Gabriel while appealing to admirers of Bad English and Journey.
Rock Emporium " Society of Friends" has everything for the classic AOR rock fans wrapped up in a modernized Vintage first class production, courtesy of Ian Parry himself.